May/June 2022
Robert Bankston, KE4AL, President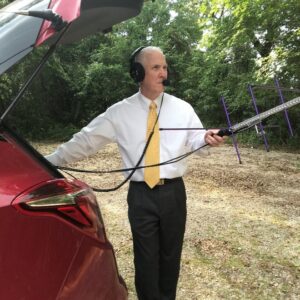 The theme for this year's Hamvention was Reunion, and that was certainly the case. After a two-year absence due to COVID restrictions, it was great to see everyone, face-to-face, once again, and talk about the exciting opportunities of amateur radio in space. Like many of our visitors, I too was both excited and impressed with the progress and accomplishments being made in our Engineering, CubeSat Simulation, and Youth Initiative programs.
The AMSAT TAPR Banquet on Friday night was a great opportunity to come together with our friends at Tucson Amateur Packet Radio (TAPR) and pay tribute to Bob Bruninga, WB4APR (SK), who we lost earlier this year. I want to thank everyone who shared their stories of Bob, who has contributed so much for amateur radio and amateur radio in space.
Attendance at the AMSAT Forum was fantastic. Jerry Buxton, N0JY, and Jonathan Brandenburg, KF5IDY, provided an excellent Engineering update on GOLF, our in-house developed reaction wheels, and the new Fox Plus program. Frank Karnauskas, N1UW, brought us up to speed on AMSAT Youth Initiative program, which takes an innovative and inspiring approach in introducing youth to amateur radio in space. Last, but not least, Alan Johnston, KU2Y, and his students demonstrated the CubeSat Simulator and CubeSatSim Lite, both of which have made a terrific impact in the STEM education community.
I want to thank all of the volunteers who donated their time over the long weekend to serve as AMSAT Ambassadors at our booths. Our volunteers, led by Phil Smith, W1EME, did a phenomenal job in answering questions, serving our members, and making AMSAT's presence at Hamvention 2022 a huge success. THANK YOU!
40th Anniversary of the Space Camp
For those not aware, the U.S. Space and Rocket Center in Huntsville, Alabama, celebrated the 40th Anniversary of Space Camp on June 18, 2022. AMSAT Ambassador Tim Cunningham, N8DEU, hosted special event station K4S, demonstrating his field day amateur radio satellite station and answering questions about amateur radio in space. While Tim was able to work the International Space Station (ISS) several times, along with multiple contacts through other LEO satellites, the highlight of his efforts was facilitating a contact between a graduating Space Camp young lady (YL) and an astronaut aboard the ISS. Congratulations Tim on a job well done!
An Innovation Roadmap
Innovation and experimentation are the cornerstones of what sets AMSAT apart in the amateur satellite community, and what we need to continue to focus on in AMSAT's future.
In June 2021, AMSAT implemented a Strategic Plan, defining who we are and where we want to go. In this plan we affirmed our commitment to return to higher orbits and the important role GOLF plays in helping us to develop the necessary systems and skills to take us there. In addition, we expressed our continued support in providing easily accessible amateur radio satellites in low earth orbit, encouraging the next generation of engineers, software developers, scientists, and mathematicians through STEM educational initiatives, and partnering with ARISS on human spaceflight programs. It is now time that we put that plan into action.
Compliance and Open Projects – Establish export control policy and open project framework to allow AMSAT's return to international collaboration.
AMSAT is committed to complying with U.S. export controls laws and regulations including the International Traffic in Arms Regulations (ITAR), the Export Administration Regulations (EAR), and the Office of Foreign Assets Control (OFAC) regulations. ITAR and EAR regulations govern the shipment, transfer, and access of export-controlled data, items, equipment, materials, and software to non-U.S. persons or entities (domestically and abroad). OFAC regulations impose sanctions and embargoes on transactions or exchanges with designated countries, entities, and individuals.
To ensure compliance with all Export laws, AMSAT must establish an Export Control policy, including procedures for complying with Export Control laws and educating all individuals working at, with, or on behalf of AMSAT, who work with, or have access to export-controlled technical data, software, materials, and equipment, on such laws, policies, and procedures. This policy should require actively managing and monitoring compliance with Export Control laws and authorize the creation of procedures to administer major organizational functions related to export compliance.
AMSAT also recognizes that a critical component of its mission is supporting fundamental research, as well as developing relationships and participating in the worldwide scientific, amateur radio, and amateur satellite communities to further the pursuit of knowledge.
Export control laws restrict foreign national access to items or information that might be contrary to U.S. interests; however, these laws include exemptions for information published or disseminated in the Public Domain. AMSAT must take advantage of these carve-outs, when available, to further its international collaboration and outreach efforts.
As such, we are working on implementing the necessary online project management and collaboration tools to support our open projects, as well as the necessary publication processes to be able to share what we have learned, with the world.
Experimentation and Education – Develop open and sustainable CubeSat programs to provide technological experimentation and educational support in Low Earth Orbits (LEO).
Low earth orbiting (LEO) satellites play a critical role in AMSAT's future. LEO FM CubeSats provide a cheap entry point to amateur radio in space, and the lower costs associated with building and launching them makes them an excellent platform to support our technological experimentation and STEM educational initiatives. AMSAT's Fox Plus program will serve as the foundation for our future efforts in LEO.
In addition, proposed orbital debris mitigation standards will require all flight systems intended to be flown above low earth orbits to be "proven" in low earth orbit first. As such, AMSAT's GOLF-TEE (Greater Orbit Larger Footprint – Technology Exploration Experiment) was developed to demonstrate the necessary technologies for higher orbits.
Scientific Research – Develop an open CubeSat program to enable scientific research related to amateur radio above low earth orbits.
As space becomes more and more crowded, obtaining a license to launch a satellite above low earth orbit will require a reason more important than just amateur radio. Moving forward, we need to incorporate missions that include benefits for the greater good of society, of which scientific research and education appear to be our easiest path.
AMSAT is not a scientific research institution, but we can certainly benefit by partnering with educational institutions to study the long-term effects of radiation exposure on communication and command and control systems. Our partnership with Vanderbilt University during the Fox Program provides us with a template as we chart our return to HEO.
GEO Rideshare – Develop program to secure an amateur radio payload in geostationary orbit above North America.
I am often asked, "When will AMSAT put a satellite in geostationary orbit?" The short answer is NEVER,… if we have to do it by ourselves. The Federal Communications (FCC) is not going to allow a bunch of weekend warriors to play in geostationary orbit; not to mention, the price of admission, continued operation, and indemnification is beyond our reach. Our best opportunity is to partner with someone already going there, as a secondary payload.
To date, no one has knocked on our door offering a free ride, nor have we had any success in our numerous cold call attempts. What we need is someone on the inside or even a friend of a friend, who can get us in the room. If you know someone and an opportunity, I could use your help.
Until next time, thank you for supporting AMSAT. Onward & Upward!
Previous Editions

March/April 2022
January/February 2022
November/December 2021
September/October 2021
July/August 2021
May/June 2021
March/April 2021
January/February 2021
November/December 2020
September/October 2020
May/June 2020
March/April 2020
January/February 2020
September/October 2019
July/August 2019
May/June 2019
March/April 2019
January/February 2019
November/December 2018
September/October 2018
July/August 2018
May/June 2018
March/April 2018
January/February 2018
November/December 2017
September/October 2017
July/August 2017
May/June 2017
March/April 2017
January/February 2017