March/April 2022
Robert Bankston, KE4AL, President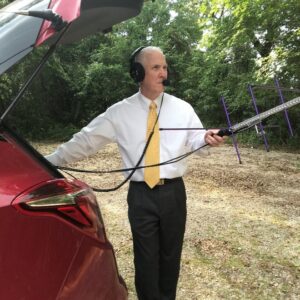 Hamvention – Here We Come!
After a two-year hiatus due to COVID-19 cancellations, we are excited about the opportunity to all get together again and share our passion for amateur radio in space at Hamvention.
The 2022 Hamvention will be held May 20 – 22 at the Greene County Fairgrounds and Expo Center in Xenia, Ohio
+ Friday, May 20th, 9:00 AM – 5:00 PM
+ Saturday, May 21st, 9:00 AM – 5:00 PM
+ Sunday, May 22nd, 9:00 AM – 1:00 PM
+ [all times Eastern Daylight Savings Time]
AMSAT Engineering, Education, Youth Initiative, Member Services, Getting Started, and, of course, the popular AMSAT Store will be located in Building 1, booths 1007-1010 and 1107-11100. In addition, AMSAT will be hosting live satellite communication demonstrations just outside of our booths, as satellite passes allow.
I will be hosting a forum on Saturday, May 20th, from 12:00 to 1:30 PM, in Room 2, sharing AMSAT's vision, mission, and plan to make it happen. In addition, AMSAT Engineering, Education, and Youth Initiative will provide updates on their programs.
In addition, AMSAT will be hosting an informal social event on Thursday evening and co-hosting the AMSAT/TAPR Banquet on Friday night.
AMSAT will host an informal get together at Tickets Pub & Eatery, located at 7 W Main St, Fairborn, OH, on Thursday night, May 19th, from 6:00 p.m. to 8:00 p.m. Tickets offers a great selection of Greek and American food, ordering off the menu. In addition, drinks (beer, wine, sodas and iced tea) are available at the bar. No program or speaker, just good conversation. Come as you are; no reservations required. Bring some friends and have a great time the night before Hamvention.
We are happy to once again partner with our friends at Tucson Amateur Radio Packet Radio on the 13th annual AMSAT/TAPR Banquet, to be held in conjunction with Hamvention. This year's AMSAT/TAPR banquet will be held at the Kohler Presidential Banquet Center on Friday, May 20th at 18:30 EDT and honor the life and accomplishments of long-time amateur satellite and amateur packet pioneer Bob Bruninga, WB4APR, who passed away in February.
The Kohler Presidential Banquet Center is located at 4548 Presidential Way, Kettering, Ohio – about 20 minutes away from the Greene County Fairgrounds.
Tickets ($57 each) may be purchased from the AMSAT store. The banquet ticket purchase deadline is Friday, May 13th. Banquet tickets must be purchased in advance and will not be sold at the AMSAT booth. There will be no tickets to pick up at the AMSAT booth. Tickets purchased on-line will be maintained on a list with check-in at the door at the banquet center. Seating is limited to the number of meals reserved with the Kohler caterers based on the number of tickets sold by the deadline.
For more information, to view the menu options, and purchase your tickets, please visit https://www.amsat.org/product/amsat-tapr-joint-hamvention-banquet-registration/.
We look forward to seeing you at Hamvention. I hope you can join us.
AMSAT Receives ARDC Grant
If you have not already heard, AMSAT received a generous grant of $93,975 from Amateur Radio Digital Communication (ARDC) to develop a 3U spaceframe with deployable solar panels. This standardized 3U CubeSat spaceframe will serve as the mechanical platform for our Greater Orbit, Larger Footprint (GOLF) series of satellites, as well as for a new generation of low-Earth orbit (LEO) FM satellites. In addition, the 3U CubeSat spaceframe design, to include engineer drawings and source files, will be shared publicly, so that other CubeSat developers may freely use our spaceframe as a basis for their next satellite.
Help Wanted
Although AMSAT is a small organization, we have big dreams. To bring those dreams to reality, we, as an all-volunteer organization, need your help. Engineering expertise is always a top priority, but our volunteer needs span the entire gamut, from administrative to program management, education to website development, and public relations to finance. Please consider donating your time and expertise to help us continue on our path Onward & Upward!