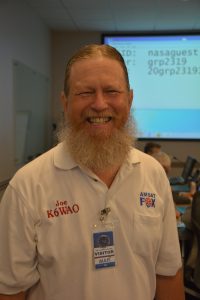 As AMSAT approaches its Golden Jubilee, we welcome you to the world of Amateur Radio Satellites! Founded in 1969, the Radio Amateur Satellite Corp. (AMSAT) is an all-volunteer organization (our office manager is the only paid employee) that has been instrumental in "keeping amateur radio in space" over the past 48 years.
Starting with the launch of Australis-OSCAR 5 in 1970 and through the deployment of AMSAT-OSCAR 85 in 2015, AMSAT has been directly involved with 21 amateur radio satellite projects, 15 of which were successfully placed in orbit, 4 awaiting a scheduled launch, and 1 currently in development.  Of the last 6 AMSAT CubeSat projects, 5 were the Fox-1 series, 4"x4"x4" 1U CubeSats that were designed to replace AO-51's popular FM repeater capability. The first of these satellites was launched on October 8, 2015. RadFxSat (Fox-1B) which has been accepted by NASA's Educational Launch of Nanosatelites (ELaNa) program; is scheduled to launch November 10, 2017 from Vandenberg, CA, with an additional three Fox-1 series launches scheduled before the end of 2018. Now, adding to our lineage of development projects is GOLF-TEE, a 3U technology demonstrator with Attitude Determination and Control (ADAC) and deployable solar panels. The GOLF, or "Greater Orbit, Larger Footprint," project was announced in October 2017, so stay tuned for other details as the project develops.
There are currently several operational amateur radio satellites in orbit, providing a variety of services such as FM voice, SSB and CW communications. While some satellites may require equipment that you may not currently have access to, there are "birds" that utilize modes that are already in your shack.  SO-50 and AO-85, for example use two meters and 435 MHz FM. Amateur Radio on the International Space Station (ARISS) has both voice and digital capabilities on two meters and 435 MHz although packet operation is the norm apart from ARISS school contacts.  Much of the hardware developed for ARISS, such as the Multiple Voltage Power Supply (MVPS), has been designed and built by AMSAT. Numerous satellites carry linear transponders for CW and SSB.  There are also a number of university satellites with scientific payloads that transmit in the amateur radio bands that can be monitored.
AMSAT has developed a number of publications and software items designed to help you become active in the satellite program. If you are new to amateur satellite operations, AMSAT's "Getting Started With Amateur Satellites" is a wealth of information for a nominal donation. A complete listing of our resource offerings is available on our website and you may purchase them through AMSAT's secure web store. When available, you may also find the latest in AMSAT fashion for out of this world clothing for your next ham club meeting.
If our activities interest you, please consider an AMSAT membership that will provide you with our magazine. The AMSAT Journal is a bimonthly publication that provides a great deal of information on the amateur satellite program. You will find the magazine to be a great source for not only 'getting started', but developing an understanding of satellite communications, experiments, telemetry, and contesting. The best reason for membership is the fun you enjoy with like-minded amateur radio enthusiasts from all over the world.
I also encourage you to support AMSAT. We are a 501(c)(3) not-for-profit educational and scientific organization whose purpose is to design, construct, launch, and operate satellites in space and to provide the support needed to encourage amateurs to utilize these resources. Please consider a tax-deductible contribution to AMSAT to help underwrite the development and launch expenses of our satellite program. And for those young at heart whose numerical age is over 70 ½ consider a donation to AMSAT to meet any required minimum distributions, or RMDs.
Thank you for visiting the AMSAT website!
Joseph K. Spier, K6WAO
President, AMSAT