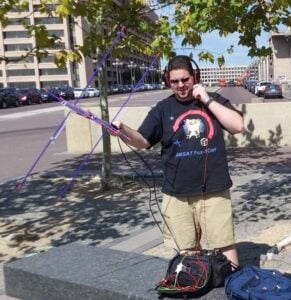 About
The Radio Amateur Satellite Corporation, or AMSAT, is a worldwide group of Amateur Radio Operators (Hams). It was formed in the District of Columbia in 1969 as an educational organization.
For over 50 years AMSAT groups in North America and elsewhere have played a key role in significantly advancing the state of the art in space science, space education, and space technology. The work now being done by AMSAT volunteers throughout the world will continue to have far-reaching, positive effects on the future of both Amateur Radio, as well as other governmental, scientific and commercial activities in the final frontier.
Rarely have a group of "amateur" volunteers managed to do so much…for so many…with so little.
Mission
AMSAT's goal is to foster Amateur Radio's participation in space research and communication. The Organization was founded to continue the efforts, begun in 1961, by Project OSCAR, a west coast USA-based group which built and launched the very first Amateur Radio satellite, OSCAR, on December 12, 1961, barely four years after the launch of Russia's first Sputnik.
Today, the "home-brew" flavor of these early Amateur Radio satellites lives on, as most of the hardware and software now flying on even the most advanced AMSAT satellites is still largely the product of volunteer effort and donated resources. Though we are fond of traditions our designs and technology continue to push the outside of the envelope.