Joe Spier, K6WAO, President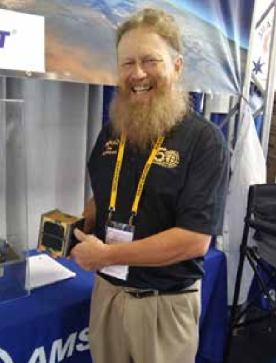 As I write this installment of Apogee View, I have just returned from Hamvention 2019. Before I report on all the AMSAT functions at Xenia, I'd like to take a moment to remind all AMSAT members of your importance to this organization. This is AMSAT's 50th Anniversary, and AMSAT has existed not only because of the hard work of all the volunteers over the years but in considerable measure from the support of the membership. The key support each and every member can provide is to vote in the annual Board of Directors election. I ask you to do your research. Cast your ballot for the director based upon their vision for AMSAT's future as reflected in the candidate's statements and whether their views represent where you want to see this organization moving in the future.
Before I get to our Hamvention activities, I have to thank the Dayton Amateur Radio Association (DARA) and the American Radio Relay League (ARRL). I arrived in Dayton a day early to help AMSAT Hamvention Chair, Phil Smith, W1EME, collect all the materials we had prepositioned to Dayton. AMSAT and DARA member Steve Coy, K8UD, allowed the use of his facilities, and this year, the space frames for the OSCAR Park display were delivered to his care. Phil and I delivered two van loads to Hamvention and met Steve Belter, N9IP, with a truckload of the 2019 Edition of Getting Started with Amateur Satellites (get yours at the AMSAT Store online).
Thursday was the official setup day for the AMSAT booth. While the setup crew unloaded the storage locker (another van load) and began the setup process led by Paul Stoetzer, N8HM, and Barry Baines, WD4ASW, I attended the opening of the AMSAT® Academy. The AMSAT® Academy was hosted by DARA at the DARA Clubhouse with support from Ed Collins, N8NUY, also an AMSAT and DARA member. The presenters were your El Presidente and AMSAT Vice President – User Services, Robert Bankston, KE4AL. While I covered a bit of AMSAT history, Robert did the yeoman's work for the day with the 38 attendees. All were treated to a full day of instruction, designed for both beginners and advanced amateur radio satellite operators, as well as a digital copy of 2019 Edition Getting Started with Amateur Satellites, a one-year AMSAT Basic Membership or renewal, and a pizza buffet lunch.
This was a unique opportunity to learn all about amateur radio in space and working the FM, linear transponder, and digital satellites currently in orbit. Keith Baker, KB1SF, AMSAT Treasurer and a DARA member, introduced and escorted Japanese Amateur Radio League (JARL) and radio star, Kaori Mita, JI1BTL, who hosts the radio show "CQ ham for girls" in Japan. She sang one of her hit songs, the original of which may be found here: www.fmpalulun.co.jp/sound/CQ1.mp3. The next AMSAT® Academy will be held at the Albuquerque Duke City Hamfest and Convention in Albuquerque, New Mexico, September 20-22, 2019.
By the time I got back to the AMSAT booth, the crew had a lot of the preliminary setup completed. I headed over to the ARRL section and met with Bob Allison, WB1GCM. ARRL Test Engineer. After my many thanks to the League for the loan of OSCAR 1, we had a brief chain of custody ceremony, after which Bob and I walked OSCAR 1 to OSCAR Park. Other appearances at OSCAR Park included a full size model of AO-7 (thanks to Peter Portanova, W2JV), a full size Phase 3A space frame, 1/3 size models of AO-10 and AO-13, a full size working engineering space frame (everything but batteries and solar panels) of ARISSat-1 (thanks to Lou McFadin, W5DID), the Fox-1 Mechanical Mock-up (thanks to Alan Johnston, KU2Y), and the GOLF dimensional frame (thanks to Bob Davis, KF4KSS). After setup, everyone met at Tickets Pub in Fairborn. The turnout was incredible! Not only did AMSAT fill the space reserved, but we spilled over into the adjoining room.
As Friday opened at Hamvention, I made my way to the front gate where the Boy Scouts of America's Venturing Crew 73 members were getting donations for this year's Hamvention patch. The patch, which resembled the Hamvention "Mentoring the Next Generation" artwork, may be purchased here 
I returned to the AMSAT booth for the Hamvention 2019 opening, where booth traffic was heavy. I left at 1300 EDT to go to the ARISS Forum. The Amateur Radio on the International Space Station (ARISS) Forum was moderated by Frank Bauer, KA3HDO, AMSAT Vice President – Human Spaceflight and ARISS-I Chair, and Rosalie Wright, K1STO, ARISS-I Secretary and ARISS-US ARRL Delegate. Updates included ARISS basics, reports on the number of contacts to date, the contact proposal process, and a silent moment for Astronaut Owen Garriott, W5LFL (SK). ESA Astronaut Tim Peake, KG5BVI, appeared followed by ARISS introduction films, and the start of the guest panel talks. First up was Keith Brandt, WD9GET, NASA Flight Surgeon at Johnson Space Center, who spoke on crew health and perspectives. Next, Gordon West, WB6NOA, shared some audio clips of early crew contacts including one with W5LFL. Following Gordo, Diane Warner, KE8HLD spoke on STEM engagement. Several clubs were recognized for their ARISS outreach programs, including the Nashua ARC, DARA's 2019 Club of the Year.
Ninth grader Dhruv Rebba, KC9ZJX, spoke on what STEM choices he was considering after being Control Operator for the ARISS US394 contact (also my last contact as an ARISS mentor). A discussion followed on the NASA Deep Space Gateway (DSG) and the submitted ConOps plan, reflecting DSG's progress toward becoming a reality. Then Frank Bauer spoke about the Education Committee and its development. Lou McFadin, W5DID, provided an update on the ARISS hardware and the InterOperable Radio System (IORS). Frank finished with the announcement that, for donations of any amount at www.ariss.org/donate.html after May 16 on FundRazr.com, an anonymous benefactor will match your contribution dollar for dollar, for which ARISS is very grateful. The donation match ends on July 17, 2019. I returned to OSCAR Park for the remainder of the day.
That evening, the TAPR/AMSAT banquet provided a great meal, social discourse, and a presentation by Philip Erickson, Ph.D., W1PJE, of the Atmospheric Sciences Group at MIT Haystack Observatory. His presentation, entitled "New Frontiers in Human Understanding of Geospace: Radio Explorations of Near-Earth Space from Top to Bottom Through Joint Amateur – Scientist Partnerships," focused on citizen science. Specifically, he described how the radio propagation data show how the space weather, ionospheric layers, lower atmosphere, and terrestrial weather patterns are all related.
Saturday seemed calmer at OSCAR Park and the AMSAT booth, or maybe we all just became immune to the crowds. The AMSAT Forum occurred midday. I updated attendees on AMSAT with the usual reports on membership, financials, and the expectation for the EAR Policy that should be ready the 3rd quarter this year. I was followed by Jerry Buxton, N0JY, AMSAT Vice President – Engineering, who talked about the Fox-1 series and GOLF (Greater Orbit, Larger Footprint) Projects. Alan Johnston, KU2Y, AMSAT Vice President – Educational Relations, introduced the AMSAT CubeSat Simulator. Robert Bankston, KE4AL, AMSAT Vice President – User Services, discussed AMSAT's 50th Anniversary Operating Event and the new AMSAT Ambassadors Program.
Our major announcement at the AMSAT Forum concerned the 50th Anniversary Space Symposium. This year will be the 37th Annual AMSAT Space Symposium and General Meeting, to be held Friday through Sunday, Oct. 18-20, 2019, in Arlington, Virginia. The location will be The Hilton Arlington, 950 North Stafford Street, Arlington, Virginia, 22203, 703-528-6000.
The Hilton Arlington is located in the heart of the Ballston neighborhood of Arlington, VA. Connected to the Ballston Metro Station, the hotel offers easy and effortless access to Washington D.C.'s top tourist destinations like the National Mall, Smithsonian Museums and historical monuments. The hotel is six miles from Reagan National Airport and the National Mall.
The AMSAT Board of Director's Meetings will be held just before the Symposium, October 16-17, at the same hotel. The current plan is for tours of Washington D.C./Baltimore area to be on Sunday and Monday, October 20-21. The banquet speakers will celebrate AMSAT's long history, and an OSCAR Park display also is planned, so please plan join us for the 50th Anniversary Symposium — you would be glad you did. Watch for future announcements.
On Saturday, I was interviewed by one of the local Dayton television stations, but alas, I have a face for radio as most of the footage ended up on the cutting room floor. You can see parts of OSCAR Park in the report at: fox45now.com/news/local/radio-lovers-from-across-the- world-go-to-hamvention-in-greene- county.
Sunday was almost relaxing in comparison, with only half a day in the AMSAT booth, then breaking down and packing up materials, returning them to the storage locker, and then off to the Columbus airport for delayed flights until I got back to Reno about 0300 PDT the next day, in just a little over 24 hours.
I had the pleasure of attending the 16th Annual CubeSat Developer's Workshop at Cal Poly in San Luis Obispo, CA, April 23-25. This premier event brings together universities, K-12 educators, commercial vendors, commercial space opportunities, and the public from all over the globe. Traffic at the AMSAT table was steady, with significant interest generated by the Linear Transponder boards of AMSAT's Fox-1E. I must commend AMSAT's Vice President – Engineering Jerry Buxton, N0JY, and Vice President – Operations Drew Glasbrenner, KO4MA, who staffed the AMSAT booth and interacted with the CubeSat community. This left me free to attend many lectures and learn about cutting edge CubeSat developments. I learned about a great need for the development of thermal protection for CubeSats to operate in the lunar night temperatures that can plunge to less than minus 397 degrees Fahrenheit (minus 238 Celsius) — colder even than the surface of far away Pluto.
At the end of June, I'll attend the ARISS-I Face-to-Face Conference in Montreal, Quebec, Canada. I'm also interviewing a candidate for AMSAT Vice President for Marketing. I have two volunteers with extensive grant writing skills, and I will announce that program once all the particulars are sorted out. For now, I ask that you continue your membership, help recruit new members, contribute what you can when you can, use the satellites, transition to the linear birds, and more importantly – have fun!
73!
Joe, K6WAO