AMSAT announces that the 2018 36th Annual AMSAT Space Symposium and General Meeting will be held on Friday through Sunday, Nov. 2, 3, & 4, 2018 in Huntsville, Alabama. Location will be at the US Space and Rocket Center, One Tranquility Base, Huntsville, Alabama (https://www.rocketcenter.com/). Hotel accommodations will be next door at the Marriott at the Space & Rocket Center, 5 Tranquility Base, Huntsville, Alabama USA.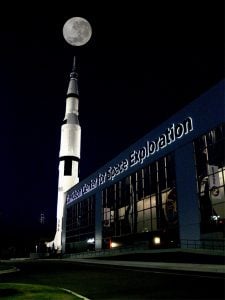 The 2018 AMSAT Space Symposium and Annual Meeting features:
Space Symposium with Amateur Satellite Presentations
Operating Techniques, News, & Plans from the Amateur Satellite World
Board of Directors Meeting open to AMSAT members. The AMSAT BOD will meet at the Marriott at the US Space and Rocket Center.
Opportunities to Meet Board Members and Officers
AMSAT Annual General Membership Meeting
Auction, Annual Banquet, Keynote Speaker and Door Prizes !!
Our Keynote Speaker this year will be announced at a later date.
Multiple alternate activities and attractions are in the Huntsville area.

Huntsville Botanical Garden    -Monte Sano State Park
U.S. Veterans Memorial Museum    -Von Braun Center

We are working on tours of Redstone Arsenal and Marshall Spaceflight Center.
The Marriott at the US Space and Rocket Center is located at 5 Tranquility Base, Huntsville, AL, 35805.
Some of the perks include
* Free parking for attendees.     * Complimentary WiFi.            * Adjacent to the US Space and Rocket Center
Hotel Reservations for the Symposium may be made by individual attendees directly with Marriott reservations at 1-(800) 228-9290 or (256) 830-2222, please mention the Radio Amateur Satellite Corporation (AMSAT), Reference Number M-BIHHXTA.
Attendees may also make their reservations online at the following link: Book your group rate for AMSAT
Instructions for booking your room. Firefox blocked several of the features on this page. Try Internet Explorer or Edge, they worked fine. First, click on the link or copy/paste. You will be presented with one option… a King Bed with one person. Next, choose the dates for your stay. After that, click on Check Availability. This will allow you to choose either one King bed or two Double beds. After choosing the beds, click on Edit that appears under your check in and out dates and below the number of rooms and guests. You can change the number of adults and children in the room and make any other changes you need.