AMSAT announces that the 2018 36th Annual AMSAT Space Symposium and General Meeting will be held on Friday through Sunday, Nov. 2, 3, & 4, 2018 in Huntsville, Alabama. Location will be at the US Space and Rocket Center, One Tranquility Base, Huntsville, Alabama (https://www.rocketcenter.com/). Hotel accommodations will be next door at the Marriott at the Space & Rocket Center, 5 Tranquility Base, Huntsville, Alabama USA.
Attendee registration is $65 per person, when purchased in advance, and $70 at the door. Banquet registration is $50 per person.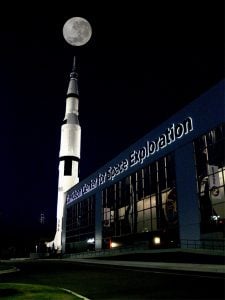 The 2018 AMSAT Space Symposium and Annual Meeting features:
Space Symposium with Amateur Satellite Presentations
Operating Techniques, News, & Plans from the Amateur Satellite World
Board of Directors Meeting open to AMSAT members. The AMSAT BOD will meet at the Marriott at the US Space and Rocket Center.
Opportunities to Meet Board Members and Officers
AMSAT Annual General Membership Meeting
Auction, Annual Banquet, Keynote Speaker and Door Prizes !!
Our Keynote Speaker this year will be Justin Foley, KI6EPH, a Systems Engineer at Jet Propulsion Laboratory.
Justin started at Cal Poly in 2005 as a student and quickly became involved in the CubeSat program building satellites. Upon graduation, he was hired by Cal Poly to work launch integration full-time and has since worked every P-POD launch, either as an integrator or operator.  Justin specialized in ground stations and mission operations, radio licensing, interface control, range safety documentation and was one of the primary operators for The Planetary Society's LightSail CubeSat.

In May of 2017, Justin transitioned from Cal Poly to the Jet Propulsion Laboratory, working on the Mars 2020 rover as part of the System Testbed Engineering group, specializing in instruments and avionics, fault protection, telecom, and power.
Multiple alternate activities and attractions are in the Huntsville area.

Huntsville Botanical Garden    -Monte Sano State Park
U.S. Veterans Memorial Museum    -Von Braun Center

We are working on tours of Redstone Arsenal and Marshall Spaceflight Center.
The Marriott at the US Space and Rocket Center is located at 5 Tranquility Base, Huntsville, AL, 35805.
Some of the perks include
* Free parking for attendees.     * Complimentary WiFi.            * Adjacent to the US Space and Rocket Center
Hotel Reservations for the Symposium may be made by individual attendees directly with Marriott reservations at 1-(800) 228-9290 or (256) 830-2222, please mention the Radio Amateur Satellite Corporation (AMSAT), Reference Number M-BIHHXTA. Reservations must be made by October 17th.
Attendees may also make their reservations online at the following link: Book your group rate for AMSAT