Clayton Coleman, W5PFG, President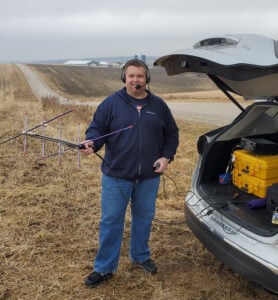 I am humbled by the greetings and congratulatory messages received over the past month since becoming the President of AMSAT. Please join me in expressing gratitude to our immediate past president Joe Spier, K6WAO, for his dedication to AMSAT's mission of Keeping Amateur Radio in Space. Following Joe's resignation, Paul Stoetzer, N8HM, AMSAT's Executive Vice President stepped up to fulfill the role of our organization's chief executive. Paul, thank you.
It was a pleasure to speak with many of our members at the Orlando Hamcation. Attending Hamcation afforded me the opportunity to meet with many of our volunteers and reach out to other organizations in amateur radio such as the ARRL and the Dayton Amateur Radio Association.
Little did I know at the time, Hamcation would be my last public appearance as AMSAT President due to the worldwide COVID-19 pandemic. While I would prefer to focus Apogee View on the exciting satellite projects ahead, instead my focus will be on the operational challenges that AMSAT will overcome in the immediate future.
Undoubtedly COVID-19 has left a mark on the amateur radio with impacts felt by event cancellations – the largest being the Dayton Hamvention. AMSAT typically has a large presence at Hamvention. Not only do we host forums, have a booth, do demos during the event, jointly host the AMSAT/TAPR Banquet, and run the AMSAT Academy, Hamvention offers a major revenue stream for us. Many members renew annually at Hamvention. Generous donors who care about AMSAT's future make it a point to personally deliver their gifts. Through the sale of apparel, books, and other trinkets, we receive a healthy boost to our funds used to operate the corporation. Maintaining the level of funding required for the organization to achieve its goals is a key concern for our Board of Directors and Senior Officers.  I am confident in our leadership team's ability to succeed in 2020.
The lack of in-person events may limit AMSAT's ability to demonstrate our capabilities live but will not preclude our ability to do so via online venues. Like many other organizations, AMSAT will seize this opportunity to produce new content online for its members and the broader community. While it is no substitute for the type of quality mentoring you'd find at an in-person AMSAT Academy event, those interested in growing their operating skill will be afforded the opportunity to do so online. In the next 60-90 days we will begin to market new content via our Social Media presence, website, and the AMSAT News Service (ANS). If you are not following us on these channels, please considering following or subscribing.
Our Membership is a key element to continued success. It is imperative that we provide an experience to our members that represent that of a 21st century organization. You will find a report from our VP of User Services, Robert Bankston, in this edition of The AMSAT Journal, giving a first glance at our new member management system. This new system brings forward AMSAT's capabilities for membership management by allowing more self-service functionality, broader communications capability, and increased functionality. To ensure we don't miss out on renewals and to make for easier onboarding new members in 2020, the shift to the Wild Apricot system is imperative. I thank our volunteers who are driving this initiative forward.
Over forty years ago, AMSAT established its first permanent office. 2020 marks a shift as to how the organization operates. Our Office Manager, Martha Saragovitz, has faithfully staffed the office for most of that time as the organization's sole, full-time employee. As AMSAT transitions to digital recordkeeping and online management systems, the need for a dedicated office will be reduced. Boards of Directors, past and present, have expressed the desire to reduce the costs of performing corporate functions.
It is one of my top priorities to transition AMSAT to a fully digital office. This process will be done in phases to ensure the continuity of AMSAT operations and that Martha is adequately equipped. This will result in more efficient operations in areas of finance, corporate governance, member management, the store, and our future events. Ultimately, AMSAT will not have a dedicated office, with the physical attributes having been successfully migrated to their digital twin.
Our engineering team is continuing the GOLF (Greater Orbit, Larger Footprint) spacecraft development that will yield technologies to place our future satellites in higher orbits. Back in January of this year, the GOLF-TEE (Technology Evaluation Environment) prototypes saw their first lab transmissions. In addition to the GOLF project, the Board of Directors has made a commitment to support amateur radio's inclusion on NASA's Gateway, a small spaceship in orbit around the Moon with living quarters for astronauts, a lab for science and research, ports for visiting spacecraft, and more. While there is some uncertainty about Gateway's future, AMSAT is following the project closely and will be prepared to commit resources when the time is appropriate. Our Fox program continues to manage both the AO-91 and AO-92 satellites in daily operation for amateur use. RadFxSat-2 (Fox-1E) is now scheduled to launch no earlier than the second quarter of 2020.
Lastly, I want to encourage your participation in AMSAT. The success of this organization rests on the tremendous dedication of volunteer and donor resources. Whether you are an engineer or a philosopher by trade, there is a position for you at AMSAT. We are in the unique situation of developing spacecraft with teams consisting of industry professionals alongside those coming from fields totally unrelated to space or RF technology. I've recently appointed Sean Kutzko, KX9X, to serve as our Volunteer Coordinator. With my full support, Sean will ensure that new volunteers are onboarded and integrated into teams at AMSAT.
Thank you for your membership, generosity, and support of AMSAT.
73,
Clayton
W5PFG
AMSAT President