Robert Bankston, KE4AL, President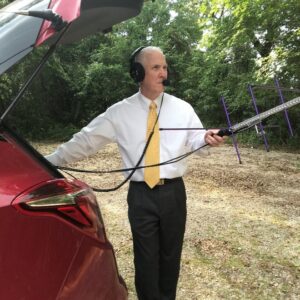 These past two months have certainly been an emotional rollercoaster, with the launch and then silence from RadFxSat-2 (Fox-1E).  Getting a front row seat at Virgin Orbit's virtual launch event was a thrilling event for me.  I only wish they would have allowed us to share that opportunity with all of you.  The excitement of another AMSAT satellite in space, however, faded quickly, with each passing orbit and no beacon reception report.  As disheartening as this was, I was never more proud of our Engineering and Operations teams, working together in an attempt to command RadFxSat-2.
While all this was going on, Brad Schumacher, W5SAT, reported hearing his own CW signal through RadFxSat-2's transponder, on January 27th.  Our Engineering and Operations team were able to duplicate Brad's efforts and confirm that RadFxSat-2's transponder was partially functioning, although at an extremely reduced power.  Having satisfied the requirements for OSCAR designation, RadFxSat-2 (Fox-1E) was designated AMSAT-OSCAR-109 (AO-109).
Our attempts to determine what is keeping AO-109 from functioning properly continues to this day.  Receiving the beacon is still our top priority, as one frame of telemetry will give us a much needed look on the health of each subsystem.  We know the signal is going to be weak and will require a big antenna system to hear it.  Any assistance you can provide would be greatly appreciated; however, we continue to ask that amateur satellite operators not attempt to use the transponder until further notice, as this may draw available power away from the beacon.
I want to personally thank all of our volunteers on the engineering and operations team for all of their hard work, our friends at Vanderbilt University's Institute for Space and Defense Electronics for sharing this dream with us, and each of you for your patience and understanding as we seek to overcome this challenge.
Will There Be a Fox-2?
AO-109 (RadFxSat-2/Fox-1E) marks the last of the planned Fox-1 series of CubeSats. At the same time, while SO-50 continues to operate in LEO, AMSAT finds itself without a continuously operational FM-mode satellite in space.  Since AO-51, the so-called "EasySats," have been the most popular amateur satellites.  AO-85, AO-91, and AO-92 have proven that offering an easy-to-use and easily accessible satellite, requiring only a handheld transceiver and a small, handheld directional beam, is essential both for those just getting started on amateur satellites and seasoned operators.  In addition, these EasySats play a critical role in introducing amateur satellite communication and extending our educational outreach.
It is imperative that we find a way to provide a sustained presence of FM crossband repeaters in low Earth orbit, without taking away from our current plans to return to high Earth orbits, and I will be making such a proposal to our Board of Directors in the coming months.
If the challenges and shortened lives of AMSAT's Fox-1 series of satellites has taught us anything, it is that trying to shoehorn all of the required subsystems and experiments into a spacecraft no bigger than a softball is no easy feat.  We must simplify our designs yet add robustness and redundancy.  By chance, AO-7 rose from the dead when its batteries shorted.  We need this capability designed into our electrical power system, so, when the batteries fail, the radios are still powered by the solar panels when the satellite is not in eclipse.  In addition, we need to ensure no single point of failure jeopardizes our mission.  Including redundancy and failsafes in our design will provide added assurance.
Another challenge for us is that AMSAT does not have another FM crossband repeater in its inventory to use for a future satellite, because the necessary components have been discontinued. AMSAT is working on procuring a new, open design for not only our needs but to share with the rest of the world.  More information on our plans to accomplish this will follow in a few months.
Running more than one satellite project at the same time will be challenging.  With limited volunteer and financial resources, we must make smart decisions.  GOLF-TEE and GOLF-1 are still our primary projects, as we continue our march upward to HEO, so we must find ways to recruit additional volunteer engineers, use commercial, off-the-shelf components, outsource construction, and/or a combination thereof.
We have a great opportunity before us, but it is only possible with your support.  Your continued membership in AMSAT, purchases in the AMSAT Store, and generous donations, combined with the cost-cutting measures I have recently enacted will help us get there.  Please join us in our journey Onward and Upward.