Robert Bankston, KE4AL, President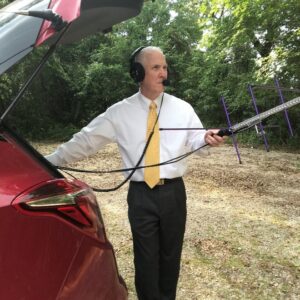 It has been six months since I was elected president of AMSAT, so I thought this would be an excellent time to bring you up-to-date on what we have been working on and what we have accomplished.
In my initial address to the Board of Directors, I laid out my plan to lead AMSAT forward and place it in a better position to accept the challenges and take advantage of the opportunities ahead.  Within this plan, I laid out both a list of goals and a timeline to accomplish them. I am happy to share that we are on track and, thanks to a lot of hard work from our volunteers, making significant progress.
Virtual Office Transition
Our biggest challenge has been transitioning from a centralized, brick-and-mortar office in Kensington, Maryland, to a virtual office spread across multiple time zones. Undoing 50-plus years of manual processing habits is no easy feat, and it has certainly not gone off without a hitch.  While a few loose ends remain, we are fully functional and in a better position than we were several months ago.
In addition to improving our efficiencies, switching to a virtual office has allowed us to significantly reduce our overhead costs.  The fiscal year 2021 budget I presented to our Board of Directors included over $150,000 in cost savings over the prior year and represents one of the first budgets in many years where our projected revenues exceeded our projected expenses.
Member Portal One Year Anniversary
Part of this virtual office transition started a year ago as we launched our online member manage system – the AMSAT Member Portal (launch.amsat.org), on May 1, 2020.  Providing our members with the opportunity to access their membership account and member benefits in real-time is a vast improvement over the manual system we used in the past.  To this day, I still receive compliments from our members on our member portal and the improved quality of our member services.
Bylaws Amendment
The Bylaws of the Radio Amateur Satellite Corporation were last amended in 1989 – 32 years ago.  As such, certain provisions have become outdated, especially concerning communication methods.  In March 2020, then-president Clayton Coleman, W5PFG, requested that a committee review the bylaws and recommend changes.  Through the committee's efforts (see their report in March/April 2021 issue of The AMSAT Journal), the AMSAT Board of Directors approved a Bylaws Amendment on March 2, 2021.
ARTICLE IV of the Bylaws of the Radio Amateur Satellite Corporation – Amendment of the Bylaws, provides:
Adoption of and amendments to these Bylaws shall require the written approval of two-thirds or more of the Directors.  Notice of an adoption or amendment which has received such approval, including the text thereof, shall be mailed to all Members by the Secretary, or, at the Secretary's discretion, included in a publication of the corporation mailed to all Members.  Such adoption or amendment shall be effective thirty days after the mailing of such notice or publication, unless written objection is received from at least ten percent of the Members in which case a vote shall be conducted by the Secretary in the manner specified for election of Directors. In any such vote, such amendment, to become effective, shall require a majority vote of those Members voting.
Notices to all members were mailed on April 9, 2021, and, unless more than 10% of our members object, the amendment shall be effective on May 9, 2021.
The most significant changes relate to modernizing how we communicate with our membership. Prior to this amendment, all communications had to be by mail.  If you have had to buy stamps lately, you know how quickly this adds up when you must communicate with over 4,000 members.  In addition, our committees recommended we take this opportunity to answer recent questions relating to membership and the election process.  Ambiguity leads to interpretation, which leads to inconsistent application.  The changes not only ensure fairness but enhance our transparency.
I would like to thank the board for taking the initiative to take on this challenge and the members of the Bylaws Committees for their time and insightful input.
JAMSAT Symposium
On March 20, I had the opportunity to attend the Japan AMSAT (JAMSAT) Virtual Symposium.  JAMSAT did an excellent job of hosting its symposium online, which provided a greater opportunity for the entire amateur satellite service community to participate and share ideas.  Our Vice President of Engineering, Jerry Buxton N0JY, provided an excellent presentation.  If you missed it, the recordings are still available at https://youtube.com/channel/UCnOhGHA_ WWIc2IUPoncf0iQ/.
During the symposium, JAMSAT selected a new president, H4PHW, Shiro Sakai san.  We congratulate him and look forward to a strong friendship and cooperation.  Outgoing President JA3GEP, Mikio Mouri san, announced his retirement after 20 years of commendable service.  We thank him for the many years of support and friendship.
GOLF-TEE Manifested
In the exciting news category, AMSAT's GOLF-TEE CubeSat has been manifested for launch on NASA's ELaNa-46 mission. GOLF-TEE is a critical first step in our return to HEO.
The TEE in GOLF-TEE stands for "Technology Exploration Environment," reflecting GOLF-TEE's mission testing two primary systems needed for higher orbits.  First, an Attitude Determination and Control (ADAC) system will be tested to allow active pointing of the satellite antennas, which will provide significant gain.  The other primary goal of GOLF-TEE is to provide initial orbit and space radiation exposure for radiation event-induced fault tolerant systems designed using COTS components. GOLF-TEE will carry an Integrated Housekeeping Unit (IHU) / command transceiver designed using the Hercules line of ARM architecture-based microcontrollers.
GOLF-TEE will also evaluate a low-cost, deployable, fixed attitude solar panel array design as part of AMSAT Engineering's exploration of fixed panel arrays that allow for outfitting a variable number of "wings" to best match the power requirements of various CubeSat missions.
GOLF-TEE will carr y a modified commercial software-defined radio (SDR), the Ettus E310, as an experimental package to test high-speed data downlink in the 10 GHz band, as well as a fully-functional LEO VHF/UHF amateur satellite carrying conventional backup systems, including a linear transponder.
CubeSat Developers Workshop
On April 27-29, AMSAT hosted a virtual booth at the 2021 CubeSat Developers Workshop (CDW).  CDW is an annual conference hosted by the Cal Poly CubeSat Laboratory at Cal Poly, San Luis Obispo, with over 500 industry professionals, small satellite developers and students.  This year's Workshop venue was held virtually due to COVID-19 response policies.  I want to thank Vice-President of Engineering, Jerry Buxton N0JY, Vice-President of Operations, Drew Glasbrenner KO4MA, Vice-President of Development, Frank Karnauskas N1UW, and Executive Vice-President Paul Stoetzer, N8HM, for representing AMSAT and sharing our mission with the CubeSat community.
ARISS-USA
I would like to congratulate our friends and partners, ARISS-USA, in obtaining its 501(c)(3) charitable tax-exempt status.  This is a monumental accomplishment and represents years of hard work and dedication by Frank Bauer, KA3HDO, and all of the ARISS volunteers.  The ARISS program has grown so much since its inception and has inspired so many students worldwide.  We are proud to be a part of it and wish them success in all their future endeavors.
AMSAT Symposium
Let me take a few moments to talk about the 2021 AMSAT Symposium.  Last year, COVID-19 restrictions forced us to host the event virtually; however, it looks like this year's symposium will be in person in Bloomington, Minnesota.  More information will be forthcoming as soon as it's available.
Finally, I want to thank every one of you for being a part of AMSAT.  This is a great organization with a noble mission to advance amateur radio in space. There is also no better time to serve at the helm as your president. I am deeply honored. Until the next time, Onward and Upward!