January/February 2022
Robert Bankston, KE4AL, President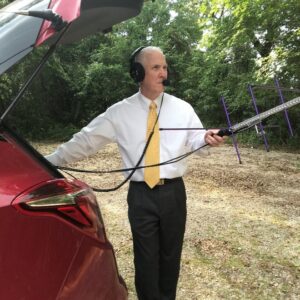 What a great opportunity to meet with AMSAT members, past and present, amateur radio operators interested in getting started with amateur radio satellites, other amateur radio organizations, and commercial vendors at this year's Orlando Hamcation (February 11-13). The past two years have left many of us feeling isolated, with forced locked downs and cancelled events, so meeting in person and being able to share AMSAT's vision and mission was truly a welcome and encouraging relief.
I want to thank all of the volunteers who donated their time over the long weekend to serve as AMSAT Ambassadors at our booth and everyone who stopped by, if nothing more than to say "Hi.". Our volunteers did a phenomenal job of answering questions and serving our members. Questions and comments appeared to focus on three categories – HEO/GEO, education, and getting started on amateur radio satellites, which was reassuring, as these are the main areas AMSAT is currently focusing our efforts on. In addition, many members expressed their gratitude for the changes and new direction AMSAT is taking to advance the art, science, and enjoyment of amateur radio in space.
ARISS was in the booth right next to us. It was nice to be able to meet up with all of them again. I am happy to see them doing so well and excited about our continued partnership to promote amateur radio in space.
We held a forum at Hamcation, entitled AMSAT – Onward and Upward, where I talked about where we have been, where we are now, and where we are going. In addition, we had the pleasure to hear from one of our youngest AMSAT members, Willem Glassbrenner, KO4UYE, who shared his school science project, experimenting on the importance of having the correct antenna polarization when communicating through amateur satellites in space. Willem did an excellent job. We are all proud of him and encouraged by not only the presence of youth participating in amateur radio in space, but the insight and enthusiasm they bring, as well.
Although M2 Antennas could not attend Hamcation this year, they generously donated an M2 Antennas LEO Pack antenna system to serve as our door prize at the AMSAT forum. Thank you M2 Antennas!
While at Hamcation I had the opportunity to meet with Steve Goodgame, K5ATA, ARRL's new manager for education, and TAPR President, Scotty Cowling, WA2DFI. AMSAT has a long history of working with both organizations to promote amateur radio and amateur radio in space. It was nice to meet with both ARRL and TAPR to discuss how we can reestablish and advance those relationships as we move forward.
Speaking of getting together again, all indications are that the 2022 Hamvention is a go and will be held May 20-22, 2022, in Xenia, Ohio. AMSAT will be in full force and will co-host the AMSAT/TAPR Dinner, which will be held in memory of Bob Bruninga, WB4APR (SK). Bob Bruninga has done so much for amateur radio and amateur radio in space. We (TAPR and AMSAT) thought it only fitting that we use this time to honor Bob's life and his contributions. More information about AMSAT at Hamvention and the AMSAT/TAPR Dinner will be provided in the coming weeks. We hope you can join us.
Looking Up
The proliferation of commercial and governmental satellites at or above 550 kilometers has certainly raised the bar for admission to higher orbits. Unless you have the necessary reason for being in this "protected" space AND have a well-demonstrated flight heritage that will reduce the risk of interfering with the other satellites to zero, in my humble opinion, you are not going to be given access.
Despite what appears to be an impenetrable FCC-licensing firewall for orbits above 550 kilometers, AMSAT is not giving up on our return to higher orbits. We are exploring multiple ways to get us there, to include developing rideshare opportunities and partnering with governmental agencies.
GEO Rideshare
By all appearances, an amateur radio-only satellite will not earn us a ticket into a geostationary orbit. The only way we see getting there is as a payload aboard a commercial communications satellite. QO-100 (Es'hail 2) proved it was possible. As such, we will be forming a task force to search out rideshare opportunities over North America. Cold calling and begging for a ride has not worked. We need a team of "insiders" to not only open the door for us, but get us in front of the decision makers. If you work in the industry or know the right person, we could certainly use your help.
GTO/HEO Partnerships
Partnering with a governmental agency should carry the necessary clout to get us over the 550-kilometer fence. The trick is to find the right partner and a way we can help them achieve their goal(s).
One such opportunity lies with NASA, who is actively working on using CubeSats to replace the now failed Van Allen Probes.
Radiation has certainly played a role in degrading each of our launched satellites in the past. Should not gaining a better understanding of how that radiation affects our mission success and experimenting with how we can mitigate that exposure be an AMSAT priority?
We partnered with Vanderbilt University to study the radiation effects on electronic components in our Fox-1 series of satellites. Why can't AMSAT take a similar approach by partnering with NASA in developing GTO and HEO targeted satellites to measure and report radiation exposure, study the effects of radiation on COTS components, and, in the process, include a radio transponder for amateur radio use?
In addition, each NASA 6U CubeSat mission often costs more than $4.5 million, because almost everything is outsourced. What if we could demonstrate and/or provide them with a cheaper, more innovative solution?.
Implementing a supportive and/or parallel program, whether with NASA or a similar agency, may provide us with access to assistance, technologies, and/or launch opportunities that would normally not be available to us. It is something definitely worth considering and pursuing.
Until next time, Onward & Upward!