Robert Bankston, KE4AL, President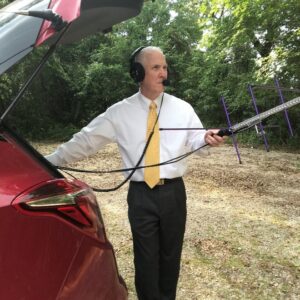 Usually, year-end is a time to reflect on events and accomplishments of the past year. 2020, being what it has been with the COVID-19 pandemic, certainly wore out its welcome. Despite all its challenges, AMSAT still managed to have a great year and is better positioned for what lies ahead. With our beloved Martha retiring at the end of the year, we certainly have our fair share of challenges. Martha has been the backbone of AMSAT for many years, keeping the organization running and assisting our members. She will be sorely missed. We thank her for sharing over half of her life with us and wish her (and John) all the happiness in the years ahead.
Martha indeed has been the voice of AMSAT, the one who answered your phone calls, emails and letters. With her leaving, we need to reorganize how we communicate with you, especially with our office's closing in Kensington, Maryland. While plans have not been finalized at the time of this writing, we will have a virtual office, with a new telephone number and mailing address. We will also implement department-specific email addresses so you can communicate directly with those volunteers who can best serve you. We will post our new phone number and mailing address on the contact pages of each of our two websites, our main website, amsat.org, and our member portal, launch.amsat.org.
Speaking of the websites, it appears that we have not adequately explained the differences between the main website and the portal. AMSAT's main website, amsat.org, contains all our publicly accessible information and web tools, as well as our online store. The other website, launch.amsat.org, is our member portal. This site provides you with access to your member benefits, as well as the ability to update your member contact information and renew your membership. Each website has separate login credentials, meaning you cannot use your member portal login on our main website. Our main website login account is just a customer account for our online store. We also use this login account for our website and webpage administrators. If you do not have an account for our main site, you can create one during a store purchase or check out as a guest.
2021 and Beyond
From the first reception of Sputnik, hams have looked to the stars and dreamed of amateur radio in space. Project OSCAR brought that dream to life, and, from its pioneering efforts, AMSAT was born.
Over the past 50-plus years, AMSAT has kept its promise to keep amateur radio in space, but is just being there enough? What lies over that next space horizon, and how do we get there? These are the questions we need to be asking ourselves to advance the art of amateur radio and space sciences.
We need ways to communicate over greater distances, systems that will withstand the coldness of space, and power modules to help us stay there. Regulatory restrictions and high launch costs are not what is holding us back, but, rather, our willingness to make that commitment.
GOLF-TEE and our partnership with ARISS on AREx (Amateur Radio Exploration) are helping us move in that direction. GOLF-TEE (Technology Exploration Environment) will serve as a testbed for attitude direction and control (ADAC) and deployable solar panels. AREx will provide us with the opportunity to put amateur radio equipment in Lunar orbit.
In the meantime, AMSAT has other exciting projects happening right now. Fox-1E was scheduled to launch during the December 19 to December 20, 2020 launch window; however, COVID-19 impacted the Virgin Orbit launch team's schedule, and the launch window closed. I am happy to pass along that the Virgin Orbit team is now safely back at work and has completed all the final pre-launch tests. As soon as a new launch window can be coordinated, Fox-1E will join its brothers and sisters in orbit around the Earth.
The upcoming launch of Fox-1E (RadFxSat-2) is a befitting capstone to AMSAT's Fox Series of 1U CubeSats. Born of spare parts and a desire to develop a linear transponder module, Fox-1E represents not only our Engineering Team's ability to make something out of nothing but also a means to share that technology with other CubeSat organizations.
AMSAT's Linear Transponder Module (LTM-1) provides a flight-proven, plug-and-play communications solution for other CubeSat programs, including command and control, spacecraft telemetry and space science data downlink and, coincidently, an amateur radio transponder. We are also looking into adding command encryption and an FM repeater option. AMSAT's linear transponder module and subsequent revisions can help ensure a continuous stream of low-Earth-orbit CubeSats carrying amateur radio payloads for the entire amateur satellite service community at little to no cost to AMSAT.
Importantly, AMSAT's educational programs continue to provide opportunities for young men and women with big dreams and an interest in science, technology, engineering, and math (STEM) to become the next generation of innovators in aerospace and advanced communications fields. AMSAT's CubeSat Simulator project accomplishes this by providing students with an interactive, STEM-based educational tool to help them unravel some of the mysteries of space with a pathway to future educational satellites.
Let me close with innovation. Big projects come at a cost in terms of both funds and people to make it happen. AMSAT is working on more formal fundraising and grant solicitation initiatives, the first of which is the relaunch of AMSAT's President's Club, as described later in this issue.
AMSAT is an all-volunteer organization. As such, we rely on the generosity of members to donate their time. In addition to technical expertise, AMSAT needs general assistance to keep it running smoothly. Martha's departure, as well as the new services we are implementing, has created several critical vacancies. No matter your qualifications and whether you can spare 15-20 minutes a day or 5 to 10 hours a week, we have a position for you. If interested, please visit amsat.org/volunteer-for-amsat/ or contact me directly via ke4al (at) amsat.org