March/April 2018
Joe Spier, K6WAO, President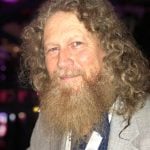 This early spring finds AMSAT's AO-85, AO-91, and AO-92 satellites very busy with grid chasers. It seems that the 2018 ARRL International Grid Chase might be affecting the use of these satellites, but whatever the reason, AMSAT members can be proud that we have provided such popular resources for new and experienced satellite operators. I want to acknowledge all the AMSAT members and contributors who helped fund the effort.
And since it is tax season, who would you rather see your funding go to, the Internal Revenue Service or AMSAT? I choose AMSAT, and I hope you will too. Our GOLF President's Match Challenge raised almost $12,000 that is matched by our former President's donations. This will give the GOLF-TEE and GOLF-1 projects a great start.
Let's do a little spring cleaning, and by that statement, I mean let's discuss what AMSAT projects are still waiting for a launch. First off, what constitutes an official AMSAT satellite project is a project proposed to the AMSAT Board of Directors (BOD) and passed with the BOD's vote of approval.
Currently, the BOD approved satellite projects are the Fox and GOLF series. Fox-1Cliff is awaiting a launch currently scheduled before the end of Summer 2018 on Spaceflight's SSO-A mission on board a SpaceX Falcon 9 from Vandenberg AFB, CA. It will carry UHF and L-band FM uplinks with the VHF downlink plus a Virginia Tech camera experiment. RadFxSat-2 (Fox-1E) is awaiting a launch currently scheduled for no earlier than the end of 2018 on the ELaNa XX mission aboard Virgin Orbit's LauncherOne. It will carry a 30 kHz wide mode V/u linear transponder and Vanderbilt's FinFET radiation experiment. It will also have a 1200 bps BPSK telemetry beacon.
The 3U GOLF-TEE is beginning spacecraft development, as is GOLF-1. AMSAT also has development programs that run under the Engineering, Education, and Human Spaceflight departments. These programs are where no specific spacecraft development has been BOD approved.
In Engineering, many of the nonspecific programs in ASCENT (Advanced Satellite Communications and Exploration of New Technology) have now been assigned to the GOLF projects. The 5 GHz and 10 GHz Ground Terminal program was to design and test a functional Ground Terminal for an eventual Virginia Tech proposed Phase 4 spacecraft. This Phase 4 effort was to be led and funded by Virginia Tech with assistance provided by select AMSAT engineering personnel working separately under Virginia Tech's program. Virginia Tech will likely make an updated announcement on this effort by late May 2018.
The Education Department is working on a CubeSat Simulator program, while Human Spaceflight is continuing to complete the next phase of safety design review testing on the Multi-Voltage Power Supply (MVPS) for Amateur Radio on the International Space Station (ARISS). Once this expensive testing is completed, ARISS may then schedule the launch to the ISS of the MVPS along with the new Kenwood TH-D710 radios. Of course, your contributions to ARISS are needed to assist in funding these tests.
AMSAT also had approved a program to assist developing a Phase 5 spacecraft for the NASA Lunar Cube Quest Challenge. AMSAT had partnered with Ragnarök and their Heimdallr 6U proposal which unfortunately was not selected as one of the three finalists. AMSAT and Ragnarök are currently under negotiations to discover what viable components may be applied to the GOLF missions.
As your President, I am continuing to work on a policy for Export Administration Regulations / International Traffic in Arms Regulations (EAR/ITAR), and I hope to have an explanation in next edition of The AMSAT Journal. I have had some great input from the engineers who the policy directly affects, and the policy is currently undergoing a professional review.
Under the guidance of Phil Smith, W1EME, AMSAT is preparing for the May 18-20, 2018 Hamvention that will be held at the Greene County Fairgrounds in Xenia, OH. Our commercial exhibit space includes eight commercial booths, which gives us additional room to highlight our engineering programs, membership Q/A area, and ARISS. Our booth location will be in the first aisle in Building One just as it was in 2017. AMSAT will occupy the entire aisle 1 area (booths 1007-1010 and 1107-1110). This arrangement provides not only more space but allows us to tailor the area to our needs without potential interference from other vendors.
Just as important, the satellite demo area (led by Paul Stoetzer, N8HM) will be located just outside Building One on the same side of the building as our exhibit space. The demo area will be sharing the front wall with the AMSAT exhibit area, making it easier to direct people to demos and providing potential opportunities for improved support services for the satellite demo team.
Our social activities will continue as we've done during previous Hamventions. Activities include an informal social get together at Ticket's Pub in Fairborn on Thursday night. The annual AMSAT/ TAPR (or TAPR/AMSAT) dinner takes place at the Kohler Presidential Center Friday evening. As in the past. AMSAT is to provide the banquet speaker, and we are pleased to announce that Jeri Ellsworth, AI6TK has accepted to be our speaker. Jeri will present about her innovative ideas and adventures in Amateur Radio. Jeri is an American entrepreneur, self-taught engineer, and an autodidact computer chip designer and inventor. In 2016, she passed all three amateur radio exams, earning her Amateur Extra license, and received the AI6TK callsign. This has now launched new adventures into Amateur Radio. She was featured in the January 2017 issue of QST and in YouTube videos from Quartzfest earlier this year. Jeri has been given a free hand to speak on whatever topic she wishes (as long as it's amateur radio, somewhat). Tickets ($37 each) may be purchased from the AMSAT store.  The banquet ticket purchase deadline is Tuesday, May 15th.  Banquet tickets must be purchased in advance and will not be sold at the AMSAT booth. There will be no tickets to pick up at  te AMSAT booth. Tickets purchased on-line will be maintained on a list with check-in at the door. Seating is limited to the number of meals reserved with the Kohler caterers based on the number of tickets sold by the deadline.
An AMSAT Forum is scheduled Saturday morning. Our moderator is AMSAT Treasurer Keith Baker, KB1SF/VA3KSF. Our Forum speaker/presentation list will be (me), AMSAT President Joe Spier, K6WAO, AMSAT Vice-President for Engineering, Jerry Buxton, N0JY, and AMSAT Vice-President for Human Spaceflight, Frank Bauer, KA3HDO. It will be a jammed-packed 60 minutes. That's right, we are limited to 60 minutes this year, so I will limit my presentation/update, so everyone may get the exciting news from the AMSAT Engineering and ARISS Executive Team Leaders.
AMSAT will offer the latest materials at the booth this year, including a 2018 edition of Getting Started with Amateur Satellites, as well as the latest in "satellite fashions." We'll once again provide a "Beginner's Corner" where we will answer questions about amateur radio satellites and communications.
Hamvention is amateur radio's premier gathering in North America. AMSAT's presence is important because it not only provides a venue to interact with our members and those interested in amateur radio satellites, but it also provides an opportunity to engage those that may not currently be active with satellites. Our mantra is "Keeping Amateur Radio In Space™" but we also need to be diligent about that mantra in front of thousands of amateurs who attend Hamvention. Our Hamvention presence builds awareness, generates revenue, and lays the foundation for future support.
So if you go, you'll be there with thirty thousand of your closest friends. There is truly nothing like it and I hope to see you there!