November/December 2021
Robert Bankston, KE4AL, President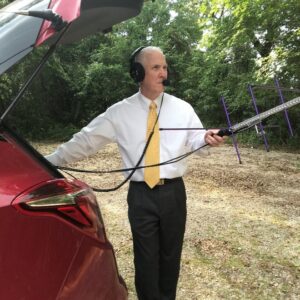 As 2021 comes to a close, AMSAT's schedule for 2022 is quickly filling up. Our Engineers will be busy with GOLF, launching a new program, called Fox +, and beginning to formulate our return to high earth orbits. Additionally, in-person events are kicking off again, starting with
+ Feb 11-13, Hamcation, Orlando, FL
+ Apr 26-28, CubeSat Developers Workshop, San Luis Obispo, CA
+ May 20-22, Hamvention, Xenia, OH
+ Aug 6-11, Small Satellite Conference, Logon, UT
+ Oct 21-22, 40th AMSAT Space Symposium and Annual General Meeting, Bloomington, MN
If your schedule allows it, I hope you will join us on this exciting ride.
Fox +
At the December 7, 2021 Board of Directors Meeting, Jonathan Brandenburg, KF5IDY, presented a plan for a sustained presence of "Easy Sats" in low earth orbit. As I mentioned back in the July/August 2021 Apogee View, Easy Sats play a critical role in introducing amateur radio in space, so I was both excited and impressed with Jonathan's proposal. Fox + (Plus), as the new program will be called, is based on the Fox-1 bus design and will develop a new transceiver and power system in an open-hardware and open-source environment. In addition, Fox + CubeSats will be able to host both student science, technology, engineering, and mathematics (STEM) experiments and AMSAT radio experiments. Of course, the Board enthusiastically and unanimously approved Jonathan's Fox + proposal.
I want to personally thank Jonathan for developing this forward-thinking program and congratulate him on being appointed Assistant Vice-President, Engineering. Well done and well deserved.
A Sad Farewell
It is with a heavy heart that I inform you of the passing of Robert "Bob" Davis, KF4KSS, on Friday, December 10, 2021. Bob has been involved with every AMSAT & ARISS project since 1996, including Phase 3D (AO-40), Eagle, Suitsat, ARISSAT, the FOX series of satellites, and, most recently, the GOLF program. His expertise in mechanical engineering and willingness to share will be sorely missed. Lou McFadin, W5DID, has written a nice tribute to Bob for this issue of The AMSAT Journal, and many have shared pictures of their time with Bob. Please take a few moments to read and reflect. God speed, Bob, and thank you for sharing your life with us.
A Welcome Surprise
Earlier this year, I was notified that AMSAT had been named as one of the beneficiaries of the Robert Donnell, Sr. (KD7NM) and Joan Donnell Trusts. AMSAT received an initial distribution of $250,000 in December. AMSAT was not aware of the Donnell's bequest until the attorney handling the Trust distribution notified us.
I am ashamed to admit that I did not have the chance to meet or even know of Robert and Joan Donnell. Scouring the internet and our records, I did find Robert's callsign, KD7NM, see where he posted to the AMSAT-Bulletin Board, and was active in ARES and packet radio in the State of Washington. Robert Donnell, Sr. KD7NM passed away on August 24, 2011, and was followed by his wife, Joan, February 4, 2013. Robert and Joan's daughter, passed away in September 2019, which may offer some explanation as to the later distribution of the Donnell estate. If you have any further information on Robert Donnell, please let me know. I think it is important to know as much as we can about the person who thought so much of AMSAT.
While we are greatly appreciative of this tremendous gift, please do not make the assumption that AMSAT does not need more help. We have an ambitious, forward-thinking plan for the future (https://www.amsat.org/strategicplan/) that takes us to new heights and encourages the next generation to reach for the stars, but space is not cheap. We need your help your help to get us there.
Knowing that all of our planned initiatives cannot be funded strictly from membership dues and donations, AMSAT submitted three separate grant requests to Amateur Radio Digital Communications (ARDC) in November. One is to fund a commercially-purchased and launched 1U FM CubeSat to help relieve some of the strain on the remaining EasySats until AMSAT can develop the Fox + program. Our second request is to fund the open-hardware design and construction of GOLF program's 3U frame and deployable solar panels. And finally, our third request is for the initial kickoff of the AMSAT Youth Initiative Program, the purpose of which is to promote interest among youth in STEM topics and opportunities, particularly those related to satellite technologies, communications and electronics, and how those technologies improve life here on Earth. I will keep you apprised, as soon as I hear something.
Help Wanted
Big plans and finding the money to fund them is a great start, but we cannot make it happen without volunteers. As an all-volunteer, member organization, AMSAT depends on the generosity of people, donating their time and expertise, to develop the next generation of amateur radio satellites, but, also, share that knowledge with the rest of the world. If your expertise is in engineering, education, journalism, project management, or even office administration, we could use your help. Come join us on our journey Onward & Upward.