Robert Bankston, KE4AL, President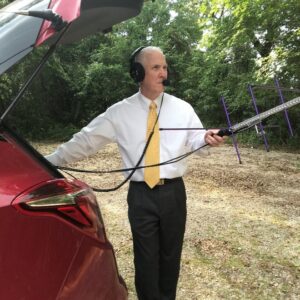 You can feel the excitement in the air. AMSAT's Board of Directors elections are coming up. In addition, AMSAT has adopted a new Strategic Plan that affirms our commitment to higher orbits and FM operations and introduces an exciting new program. Also, we will finally get to join together at this year's symposium.
No one can deny that the introduction of political rhetoric during the last two election cycles has been a hard pill to swallow. While some felt having contentious elections was healthy for the organization, the purposefully misleading statements and personal attacks caused many of our members to tune out the noise, and in some instances, turn it off completely.
After all, the amateur radio satellite service is a hobby where people come to unwind from their daily routine and take their minds off the stresses of everyday life. They certainly did not come for the added drama.
I am happy to report, though, that this year's Board of Directors election should offer a return to normalcy. As AMSAT Secretary Jeff Davis, KE9V, details in the May/June 2021 issue of The AMSAT Journal we have four nominations for four open positions.
While the results of the election may be a forgone conclusion, each nominee is already a volunteer who contributes to AMSAT's mission on a daily basis and has been nominated by their fellow members to lead AMSAT forward. Please read the important information about this year's electionsprocedures, get to know the nominees by reading their candidate statements, and support AMSAT by exercising your vote.
Another exciting announcement concerns the recently adopted Radio Amateur Satellite Corporation 2021-2035 Strategic Plan, presented to our members in the May/June 2021 edition of The AMSAT Journal. The plan establishes a long-term, multi-faceted vision that includes big dreams, a continued presence in space, and a development path for the scientists, engineers, and operators of tomorrow.
Anything this ambitious will undoubtedly challenge our limited human and fiscal resources. We must parallel our new plan with new ways to manage and fund projects. AMSAT has a pool of very talented volunteers, but there will be times when we require skills beyond our current capabilities. Recruitment, partnerships, collaborative efforts, and even outsourcing are options that will help us fill in the gaps.
We must also develop the necessary skills to take advantage of external funding sources. Amateur radio satellites benefit more than just the members of AMSAT. We provide a service to the world and offer excellent educational opportunities to anyone with an interest in space science and communication technology. The path forward has been set, so let's get started!
As stated in my last "Apogee View," the 2021 AMSAT Space Symposium and Annual General Meeting will be held at the Crowne Plaza AiRE MSP Airport, 3 Appletree Square, Bloomington, Minnesota, on October 29 – 31, 2021.
The Crowne Plaza AiRE is adjacent to the Minneapolis-St. Paul International Airport and only steps away from the METRO Blue Line's American Blvd. stop. Nearby shopping and tourist attractions include Mall of America, SEA LIFE at Mall of America, Nickelodeon Universe, and the Minnesota Zoo.
The 2021 AMSAT Space Symposium is open to the public, with registration and details available through the AMSAT Membership and Event Portal, launch.amsat.org. While we enjoyed last year's virtual symposium, nothing beats getting the chance to meet in person. I hope to see you there.