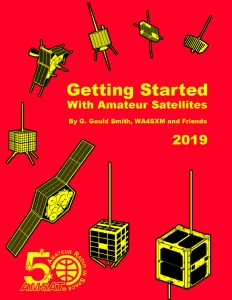 The University of Washington's HuskySat-1 CubeSat is scheduled to be deployed from the Cygnus NG-12 spacecraft at 22:30 UTC today. HuskySat-1 carries an AMSAT VHF/UHF linear transponder that will be made available for amateur use following its primary mission to test a pulsed plasma thruster and experimental K band (24 GHz) communications system.
While the satellite completes it's scientific mission, check out the best resource for learning how to work through linear transponder satellites (and other types of amateur satellites). For a limited time, AMSAT is making the "Getting Started With Amateur Satellites" book available as a download with any paid new or renewal membership purchased via the AMSAT Store. This offer is only available with purchases completed online, and for only a limited time. A perennial favorite, Getting Started is updated every year with the latest amateur satellite information, and is the premier primer of satellite operation. The book is presented in PDF format, in full color, and covers all aspects of making your first contacts on a ham radio satellite.
Please take advantage of this offer today by visiting the AMSAT store at https://www.amsat.org/shop/ and selecting any membership option. While there, check out AMSAT's other items, including the M2 LEOpack antenna system, Arrow antennas, AMSAT shirts, and other swag. Be sure to view your cart before going to checkout. If you add a membership and then go directly to checkout, you'll never see an option to add your free gift.