TAPR/AMSAT Hamvention Banquet Ticket Deadline is Friday, May, 12, 2023, Dr. Nathaniel Frissell, W2NAF, is Guest Speaker
The deadline for ordering tickets for the 2023 TAPR/AMSAT Hamvention Banquet is only two days away – the deadline for purchasing banquet ticket is Friday, May 12th! Remember, there will be no banquet ticket sales at the AMSAT booth or at the banquet door.
The 14th annual TAPR/AMSAT Banquet will be held at the Kohler Presidential Banquet Center on Friday, May 19th at 18:30 EDT. This dinner is always a highlight of the TAPR (Tucson Amateur Packet Radio) and AMSAT (Radio Amateur Satellite Corp.) activities during the Dayton Hamvention.
This year's banquet speaker is Dr. Nathaniel A. Frissell, W2NAF, who will talk about the upcoming solar eclipses and the exciting ways hams are contributing to the scientific research around these events.
The Kohler Presidential Banquet Center is located at 4548 Presidential Way, Kettering, Ohio – about 20 minutes away from the Greene County Fairgrounds.
Tickets ($60 each) may be purchased from the AMSAT store. The banquet ticket purchase deadline is Friday, May 12th. Banquet tickets must be purchased in advance and will not be sold at the AMSAT booth. There will be no tickets to pick up at the AMSAT booth. Tickets purchased on-line will be maintained on a list with check-in at the door at the banquet center. Seating is limited to the number of meals reserved with the Kohler caterers based on the number of tickets sold by the deadline.
Order your tickets online at:
https://www.amsat.org/product/2023-tapr-amsat-joint-hamvention-banquet-registration/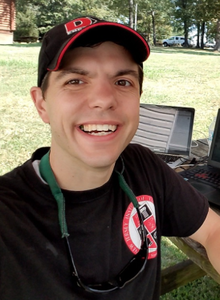 Dr. Nathaniel A. Frissell, W2NAF, will be the guest speaker at the 2023 TAPR/AMSAT Hamvention Banquet. He will talk about the upcoming solar eclipses and the exciting ways hams are contributing to the scientific research around these events.
Dr. Frissell is a Space Physicist and Electrical Engineer at the University of Scranton's Physics and Engineering Department. Dr. Frissell has a passion for radio science and remote sensing of the ionosphere. He was introduced to space physics and space weather in middle and high school through the hobby of amateur (ham) radio, where he was fascinated by long-distance radio propagation and the variability imposed on it by the geospace system.
In addition to leading him to pursue a Ph.D. in this field, it enabled him to found and lead the Ham radio Science Citizen Investigation (HamSCI, hamsci.org), a citizen science collective that aims to bring together the professional research and the amateur radio communities. This has led to the Solar Eclipse QSO Party, a nationwide ham radio experiment to study the August 21, 2017 Total Solar Eclipse (hamsci.org/seqp), and an ongoing collaboration with the amateur radio electrical engineering organization TAPR (tapr.org) to develop a Personal Space Weather Station (hamsci.org/swstation). For his efforts, the amateur radio community has awarded him the prestigious 2017 Yasme Foundation Excellence award and the 2019 Dayton Amateur Radio Association Amateur of the Year Award.
In 2019, Frissell received a $1.3 million National Science Foundation grant to fund a 3-year initiative to measure modulations produced in the Earth's upper atmosphere. The grant supports a collaborative team to develop the HamSCI Personal Space Weather Station, a modular, multi-instrument, ground-based space science observation platform used to study variability in the coupled geospace system and to better understand HF radio propagation.
In 2021, he was awarded a $481,260 grant through the NASA Space Weather Applications Operations Phase II Research Program. Frissell served as principal investigator for a research project entitled, "Enabling Space Weather Research with Global Scale Amateur Radio Datasets." He collaborated with Philip Erickson, W1PJE, of the Massachusetts Institute of Technology Haystack Observatory and Bill Engelke, AB4EJ, at the University of Alabama.
"This grant includes significant funding for participation of Scranton undergraduate students in this research, as well as support for new computation resources," Frissell said. He explained that the grant will fund "the development of an empirical model for the prediction of traveling ionospheric disturbances (TIDs) in high-frequency radio communications while investigating the geophysical drivers of these disturbances." The grant covers two years of work.
Frissell said that the predictive, empirical TID models being developed uses data collected by the Reverse Beacon Network, WSPR, and PSKreporter — automated, global-scale radio communication observation networks operated by the amateur radio community. Undergraduate students help the faculty researchers to create algorithms used for the model development.
This NASA award complements a 5-year National Science Foundation grant of more than $616,000 that Frissell received in 2020. That investigation aims to understand the source of TIDs observed in amateur radio and other scientific datasets.
In addition, Dr. Frissell has a long-time passion for teaching and education. He earned his B.S. in Physics and Music Education from Montclair State University (2007). He voluntarily coordinated and taught amateur radio license classes and radio and astronomy merit badge classes. An Eagle Scout and Vigil Honor Member, Dr. Frissell taught science and technology for six summers at Forestburg Scout Reservation in New York, and taught amateur radio with the K2BSA group at multiple Boy Scout National Scout Jamborees.