What is the Fox Project?
CubeSats were once just a cheap way for university students to build and launch a satellite. But they have become the hottest new technology in the space industry. NASA, the National Reconnaissance Office ("spy satellites,") Aerospace Corporation and even Boeing have all launched and operated CubeSats. And now, the NASA Educational Launch of Nano satellite (ELaNa) program, which offers free launches to education and encourage science missions, is open to US non-profit corporations like AMSAT. Project Fox is AMSAT's answer to this new, emerging technology. AMSAT is developing a family of CubeSats with amateur radio transponders that can support advanced science experiments. We are working with universities on science and education missions that qualify for the NASA ELaNa program. This provides us with a way to put ham radio transponders into orbit and provides our university partners with a reliable platform for space-based research projects.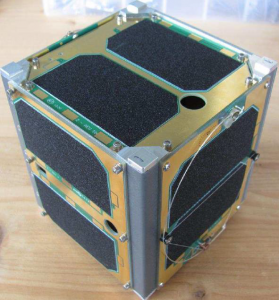 Our Phase 1 Fox satellites are 1-Unit CubeSats. They each include an analog FM repeater that will allow simple ground stations using an HT and an "arrow" type antenna to make contacts using the satellite. This was the mode made so popular by AO-51. The Phase 1 CubeSats also have the capability of operating in a high-speed digital mode for data communications. Two of our phase 1 Fox satellite projects (Fox-1 and Fox-1B "RadFXSat") have already been accepted into the NASA ELaNa program for free launches.  AMSAT has purchased a launch for a third (Fox-1C) on a Spaceflight SHERPA with a 3Q 2015 launch to SSO.
Why Are The Fox Satellites "Only" In Low Earth Orbit (LEO)?
Cost, launch opportunities, and user needs. High Earth Orbit (HEO) satellites are simply not affordable today. An excellent replacement for AO-13 is in storage in Germany. So far, the cheapest available launch is $10 million. While efforts continue to find an affordable launch, this underlines why the type of satellites we are used to are no longer affordable. By comparison, launch costs into LEO for CubeSats is in the $100k range, and is often free if paired with a suitable education-oriented mission. However, the technology developed and tested is planned to be usable, or upgradable, to HEO missions when they arise. CubeSat technology can essentially be "snapped together" to form larger, more capable spacecraft. Likewise, the engineering management procedures developed will provide us with the needed experience and contacts for other missions.
What is a CubeSat?
A CubeSat is a small and standardized satellite that packs a lot of "bang for the buck." As shown in the CubeSat (1 Unit) photo below and in the technical description these satellites are very small and therefor cheaper to launch. With a standardized structure to construct the electronic, mechanics, and other systems around a more modular and long-term engineering process can allow for sub-systems to easily be re-used. CubeSats also come in larger sizes, this is achieved by "stacking" so-to-speak a standard 1 unit CubeSat structure on-top of another. This increased size allows for larger payloads such as cameras and additional electronics!
Small Satellites:

A one unit (1U) satellite is 10 cm (4″) on a side. They can be longer, with a 3U being 30 cm (12″) in length.
Each unit has a maximum mass of 1.33 kg, approximately 2.9 lbs.

Self Contained:

Each satellite must be completely self contained for launch. This standardization actually makes more launches available.
Fox Status and Specifications
Development Phase: Approved by the Board of Directors. Design in progress. Prototype hardware delivered
Projected Launch Dates:
Fox-1A: Launched Oct. 8, 2015, now in service as AO-85.
Fox-1B(RadFXSat): March 2017.
Fox-1C/Fox-1D: TBD.
Fox-1E(RadFxSat-2): December 2017.
Space Frame Structure: Standard 1U (One Unit) CubeSat.
Space Frame Size: 10 cm X 10 cm X 10 cm.
Mass: Approximately 1.33 kg, ~ 3 lbs.
Orbit: Nominal 600- 800 km, circular, depending on launcher.
RF: [Fox-1A,B,C,D]: 500 mW EIRP, U/V (Mode B). Deployable antennas. FM only.
[Fox-1E (RadFXSat2)]: V/U (Mode J), 30kHz linear transponder.
Fox-1 Electronics: Simple IHU.
Power source: Fixed Solar Arrays.
Batteries: NiCad
Fox-1 AMSAT Symposium Presentation Resources (PDF)
2012 Symposium Fox Overview
2012 Symposium Fox Mechanical Design
2012 Symposium Fox Thermal Design
2012 Symposium Fox Radiation Mitigation
2013 Symposium Fox Satellite Program Overview
2014 Dayton Hamvention Engineering Presentation
2014 Symposium Engineering Review (Fox excerpt)
Telemetry and Other Experiments
Each Fox satellite will have a basic communications facility, plus other features and experiments. The ARRISat-1 project serves as a good conceptual model. For those interested in the performance and other experiments, mufti-OS software will be available to display the data in real time, and to forward it to a server for later study and analysis. The display will resemble this prototype console.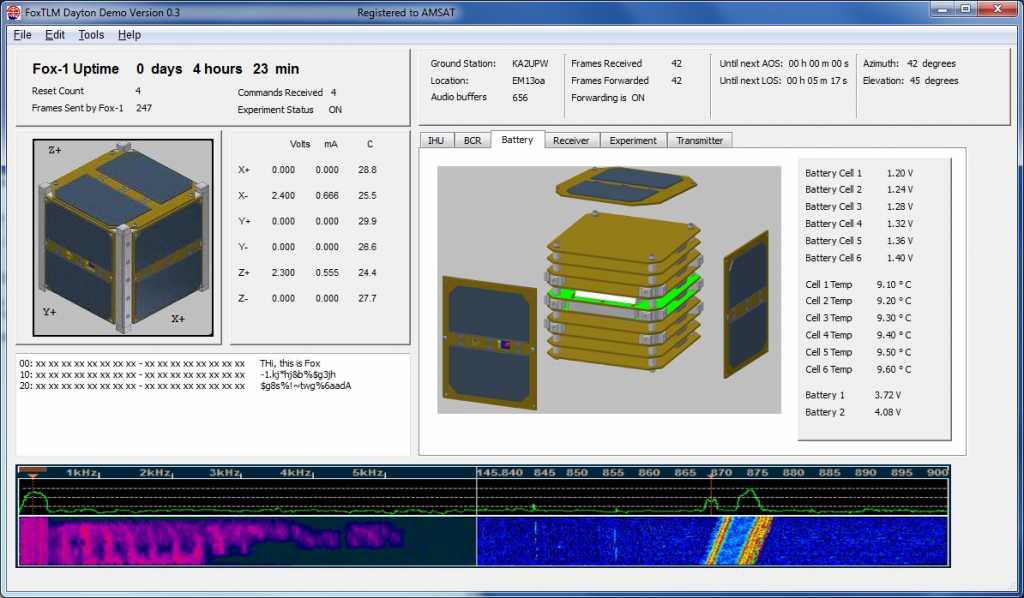 How can I help get AMSAT back into space?
Join AMSAT

Without your active financial and technical support we cannot develop new spacecraft.

Contribute

Small or large, it all adds up to enable AMSAT-NA to return to space.

Spread the word

Spread knowledge and excitement at your local radio club, hamfests, friends, and other amateur radio and technical events.