The Amateur Radio on the International Space Station (ARISS) Team has donated two of its handsome ARISS Challenge Coins to the Dayton Amateur Radio Association as a 2016 Hamvention door prize.  The two keepsake coins are positioned side by side in a beautiful display box so that each side of the coin is seen from either direction.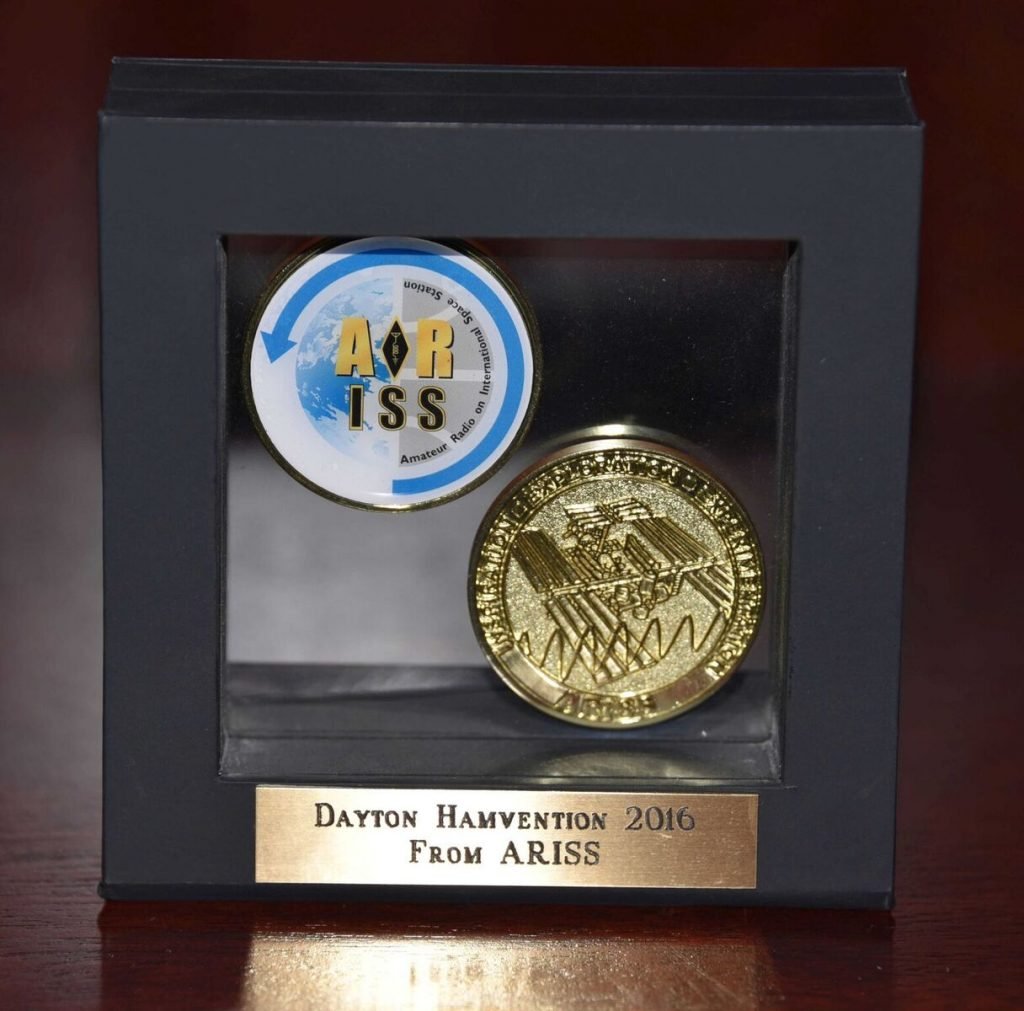 The commemorative ARISS Challenge Coin is the premium received by donors who give $100 or more to ARISS.  Dayton Hamvention General Chairman Jim Tiderman, N8IDS, agreed to feature the ARISS keepsake coin by holding a special prize drawing immediately following the introduction of the winners of the 2016 Dayton Hamvention national awards at 2 pm on Sunday.
The ARISS Team kicks off its 2016 fund-raising campaign at the Dayton Hamvention to raise money for the very high cost of replacing its aging radio system on the ISS and to help defray the cost of continuing ARISS operations. This special Hamvention prize drawing is the first step of the campaign.
ARISS International Chair Frank Bauer, KA3HDO, noted the importance of this fundraising campaign: "ARISS is in need of critical upgrades of our on-orbit equipment.  The radio system in the Columbus module is over 17 years old and underpowered. We need a 21st Century next generation solution. This fundraising campaign will enable these upgrades and, as a result, significantly improve ARISS operations and provide the funding necessary to better support our stakeholders and the amateur radio community."
Those wanting to support the ARISS fundraising campaign can donate to ARISS online via the AMSAT Website, www.amsat.org (select the "ARISS Donate" button) or the ARISS web page, www.ariss.org (select the "Donate" tab).  ARISS representatives will also be at the AMSAT Booth during the Hamvention with Challenge Coins ready for people ready to donate $100 or more.
Be sure to go to the Hara Arena at the Dayton Hamvention on Sunday, May 22, 2016 at 2 pm for the major door prize drawings … and good luck!
About ARISS
Amateur Radio on the International Space Station (ARISS) is a cooperative venture of international amateur radio societies and the space agencies that support the International Space Station (ISS). In the United States, sponsors are the Radio Amateur Satellite Corporation (AMSAT), the American Radio Relay League (ARRL), and the National Aeronautics and Space Administration (NASA). The primary goal of ARISS is to promote exploration of science, technology, engineering, and mathematics (STEM) topics by organizing scheduled contacts via amateur radio between crew members aboard the ISS and students in classrooms or informal education venues.  With the help of experienced amateur radio volunteers, ISS crews speak directly with large audiences in a variety of public forums.  Before and during these radio contacts, students, teachers, parents, and communities learn about space, space technologies, and amateur radio. For more information, go to:  www.ariss.org,  www.amsat.org , and www.arrl.org .
Also, join us on Facebook:  Amateur Radio on the International Space Station (ARISS) / Follow us on Twitter:  ARISS_status
Contact:
David Jordan, AA4KN
ARISS PR
[email protected]