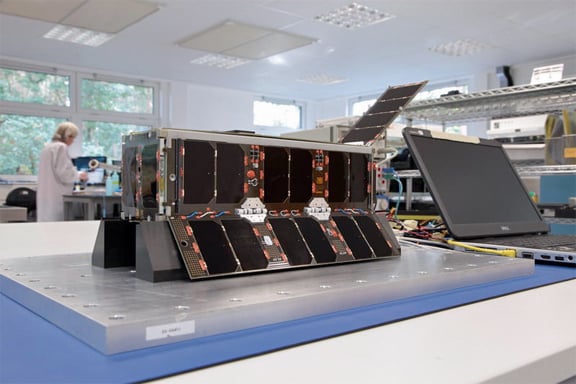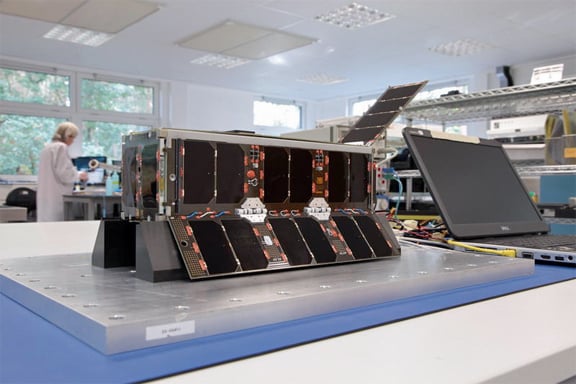 UKube-1 was successfully launched and deployed today from the Soyuz-2-1B/Fregat-M launch vehicle as a secondary payload. The launch took place as planned at 15:58 UTC from Baikonur in Kazakhstan. The primary payload was Russia's Meteor-M2 weather satellite. Additional secondary payloads (according to eoportal.org) included:
Baumanets-2, a technology microsatellite (~100 kg) of BMSTU (Bauman Moscow State Technical University)
Monika-Relek (or MKA-PN2), a Russian microsatellite (solar and magnetosphere research)
Venta-1

/

V1-QSPnP1 (V1-QuadSat-PnP-1) the first nanosatellite (7.5 kg) project of Latvia built by LatSpace SIA of Ventspils.
TechDemoSat-1 of SSTL, UK with a mass of ~160 kg
DX-1 (Dauria Experimental-1) of Dauria Aerospace, Russia's first private microsatellite with a mass of 22 kg.
SkySat-2 of Skybox Imaging Inc. of Mountain View, CA, USA, a commercial remote sensing microsatellite of ~100 kg.
AISSat-2, a nanosatellite with a mass of 6.5 kg of Norway.
UKube-1 is a 3U cubesat and carries a FUNcube educational beacon and linear transponder similar to AO-73 (FUNcube-1). Beacon signals were heard soon after launch by the UKube team at 19:16 UTC.
Frequencies in use by UKube-1 include:
145.840 Primary telemetry downlink CW or 1k2-9k6 BPSK
145.915 FUNcube-2 telemetry 1k2 BPSK
145.930-145.950 FUNcube-2 transponder downlink, 435.080-435.060 uplink
2401.0 S-band downlink (QPSK-OQPSK)
437.425-437.525 myPocketQub spread spectrum
Transponder and data downlinks operation will be variable during checkout and early operations. Check ANS, http://funcube.org.uk/, and http://amsat-uk.org/ for the most recent updates.