Greetings Amateur Radio in Space Enthusiasts!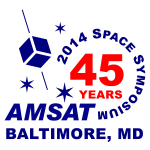 At this year's AMSAT Space Symposium, we are trying a few new things and we hope you will enjoy them.  One exciting facet we are adding this year is an auction.  All proceeds from the auction will support AMSAT's two major initiatives—the development and launch of the FOX satellite series and the ARISS program.
As we prepare for the auction, we are asking for your help in donating specialty items for auction (minimum value $100) that will attract symposium attendee's attention and get them bidding up the item price.  If you have any items that are ham related (no boat anchors please), items of historical value, space related and/or autographed items, or even sports tickets or time shares, we would love to get your donations.  Think out of the box on this—what exciting things would you like to see in this auction?
If you have something to donate to the Symposium auction, please send an e-mail to Frank Bauer, KA3HDO, who will work with you on getting your item or items into the auction.   Frank's e-mail address is ka3hdo at verizon.net
This auction, while adding a fun experience to the AMSAT Space Symposium experience, will also serve to keep amateur radio's spirit thriving in space through its donations to FOX and ARISS.
On behalf of AMSAT, I thank you for your donations in advance.  And I encourage each of you to attend and participate in this year's AMSAT Space Symposium to be held in Baltimore Maryland Oct 10-12.  For more information, see:
http://www.amsat.org/wordpress/?page_id=1555
73 from Your Symposium Committee Co-Chairs:
Frank Bauer, KA3HDO and Janet Bauer