RadFXSat-2 is a 1U cubesat technology demonstration mission from Vanderbilt University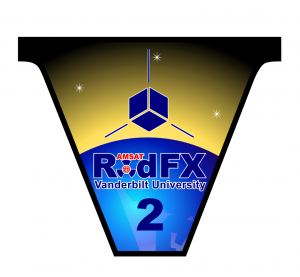 that has been accepted for launch as part of NASA's CubeSat Launch Initiative. Vanderbilt University is partnered with AMSAT, who will provide the satellite and communications for the experiments onboard as part of the AMSAT Fox program.
AMSAT recently received IARU frequency coordination for a 1200 baud BPSK telemetry downlink beacon on 435.750 MHz, and a mode V/u inverting transponder with an uplink of 145.860-145.890 MHz and a downlink of 435.760-435.790 MHz.
RadFXSat-2 is currently manifested as part of the ELaNA XX mission, scheduled for no earlier than December 2017, on a Virgin Galactic Launcher One, from Mojave, California. Other satellites on the mission include:
CACTUS-1 – Capitol Technology University, Laurel, Md.
ALBus – NASA Glenn Research Center, Cleveland, Ohio
SurfSat – University of Central Florida, Orlando, Fla.
Q-PACE – University of Central Florida, Orlando, Fla.
CAPE-3 – University of Louisiana Lafayette, La.
MiTEE – University of Michigan, Ann Arbor, Mich.
PICS – Brigham Young University, Provo, Utah
INCA – New Mexico State University, Las Cruces, N.M.
MicroMas-2b – Massachusetts Institute of Technology, Lexington, Mass.
EXOCUBE – California Polytechnic University, San Louis Obispo, Calif.
PolarCube – University of Colorado at Boulder, Boulder, Colo.