AMSAT's most prestigious award is the GridMaster Award. This award was first introduced by Star Comm Group in 2014. AMSAT thanks Damon Runion, WA4HFN, and Rick Tillman, WA4NVM, for not only sponsoring this award since its inception, but, also, entrusting AMSAT with the honor of carrying on this important award for the benefit of the entire AMSAT community.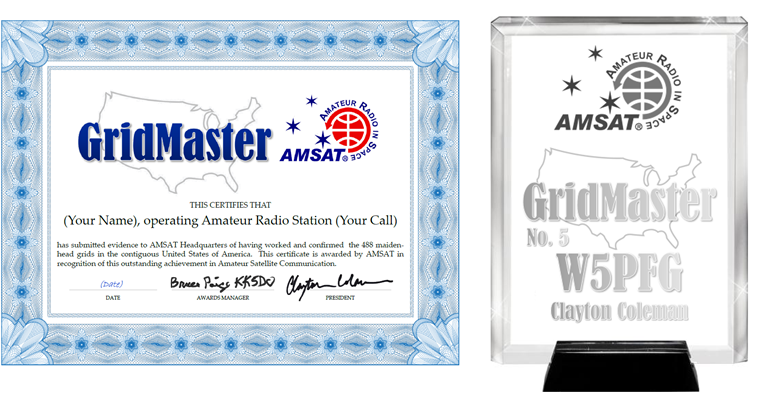 The GridMaster award is available to all amateurs worldwide who submit proof with written confirmation of contacts with each of the 488 maidenhead grids located within the contiguous United States of America.
Two-way communication must be established via amateur satellite with each grid. There is no minimum signal report required.
Contacts must be made from the same location, or from locations no two of which are more than 200 kilometers apart. The applicant's attestation in the award application serves as affirmation of abidance to the distance rule. Individuals may apply for and be granted multiple GridMaster awards, when achieved from another location, which is in a different 200-kilometer circle.
Contacts must be confirmed in writing, preferably in the form of QSL cards or via Logbook of the World (LoTW).
AMSAT reserves the right to inspect original QSL cards from any application in order to maintain the integrity of the program. Failure of the applicant to respond to inspection requests may result in disqualification from the GridMaster program. False statements on GridMaster applications or submission of forged or altered cards may result in disqualification. The decision of the AMSAT Awards Committee, regarding any issue with which it is tasked, is final.
Grid Master Award, sponsored by Star Comm Group and Squirt the Birds
| Cert No. | Name | Call Sign |
| --- | --- | --- |
| 01 | John Papay | K8YSE |
| 02 | Doug Papay | KD8CAO |
| 03 | Rick TIllman | WA4NVM |
| 04 | Glenn Miller | AA5PK |
| 05 | Clayton Coleman | W5PFG |
| 06 | Alvaro De Leon R. | XE2AT |
| 07 | Fernando Ramirez | NP4JV |
| 08 | Ron Oldham | N8RO |
| 09 | Randy Kohlwey | WI7P |
| 10 | Frank Westphal | K6FW |
GridMaster Award, sponsored by AMSAT
| Cert No. | Name | Call Sign |
| --- | --- | --- |
| 11 | Drew Glasbrenner | KO4MA |
| 12 | Kevin Manzer | N4UFO |
Application Process
To apply for the GridMaster Award, applicants must email a completed GridMaster Application Form and GridMaster Grid Schedule, along with confirmation of two-way satellite communication for each of the 488 worked/confirmed grids, to
.  Acceptable forms of confirmation include photocopies of QSL card and LOTW screenshots (see example).
QSL confirmation must include, at a minimum, the applicant's call sign, band, mode, satellite, confirmed grid, date and time, and indicate that the QSO was two-way.
LOTW confirmation must include both applicant's station and worked station QSO detail, as presented in LOTW.  A screenshot of the QSL record is the preferred method.
---
Download GridMaster Application Form (PDF)
View LOTW confirmation screenshot example (

JPEG

)
Application Fees
The application and certificate for GridMaster achievement has been underwritten by an anonymous donor.  In addition, recipients may purchase an engraved acrylic trophy.  Details for ordering the trophy will accompany correspondence announcing qualification for the award.