Slated for launch in 2016 on the inaugural Spaceflight SHERPA mission aboard a SpaceX Falcon 9, Fox-1Cliff and -1D carry university experiments from Pennsylvania State-Erie, Vanderbilt, University of Iowa, cameras provided by Virginia Tech, as well as amateur radio voice repeaters capable of U/V or L/V operation.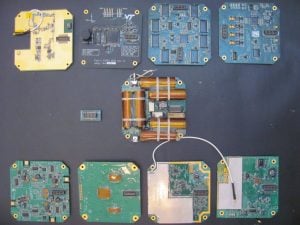 These are the boards of Fox 1 Cliff (Fox 1 C renamed as a memorial dedicated to Cliff Buttschardt who turned Cal Poly into Cubesat central and caused the explosion of cubesats onto the world). In the upper left, you can see the darker board has a VT on it. This is the Virginia Tech camera which is functional, has been integrated into the flight software and into the stack.
After assembly and with flight software loaded and final bench testing, it will be shaken, spun, and baked to make sure it will survive the launch and life in space.

Fox-1Cliff passed Day In The Life testing final bench testing last Thursday. You can see the antennas deployed, RX to the left and TX to the right.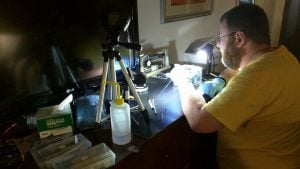 Bob Davis, KF4KSS is preparing Fox-1D for environmental testing which begins on February 1. Bob is stowing the antennas again after the testing done at Fox Labs.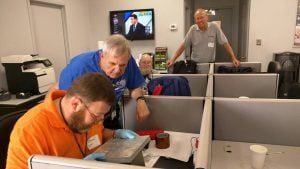 Readying Fox-1D for the vibe table at NTS in Orlando, Florida – with Bob Davis, KF4KSS, Burns Fisher, W2BFJ, Lou McFadin, W5DID, and Ed Krome, K9EK.