Leading up to the 2019 AMSAT 50th Anniversary Space Symposium and General Meeting, to be held in Arlington, VA, October 18 – 20, 2019, AMSAT's call sign, W3ZM, will operate from all 50 States, the District of Columbia, and Puerto Rico.  Not only is this your chance to get Worked All States-Satellites under the W3ZM call sign, but, also, your chance to be a part of this historic effort.
Note:  When operating outside of the "3" call area, operators will append the W3ZM call sign with "/(call area)." As an example, someone operating from Texas will use W3ZM/5; from Hawaii, W3ZM/KH6; from Alaska, W3ZM/KL7; and from Puerto Rico, W3ZM/KP4.
To make this happen – We need your help!  Please volunteer to get on the air and activate your State, using AMSAT's W3ZM call sign, as well as to cover those States without an active AMSAT Member.  Activations of other United States Territories (i.e. Guam, American Samoa, the U. S. Virgin Islands, and the Commonwealth of the Northern Mariana Islands) are also welcome.
To volunteer and operate using AMSAT's W3ZM call sign, you must:
Be a current member of AMSAT
Obtain permission by emailing AMSAT VP of User Services, specifying the requested date(s) and location(s)
Submit an ADIF log of contacts made for upload to LoTW by AMSAT, as instructed in your notice of approval to use the W3ZM call sign.  When providing you log, please include the state,

county

, and grid square(s) worked.
Robert Bankston, KE4AL, AMSAT VP of User Services, ke4al (at) amsat (dot) org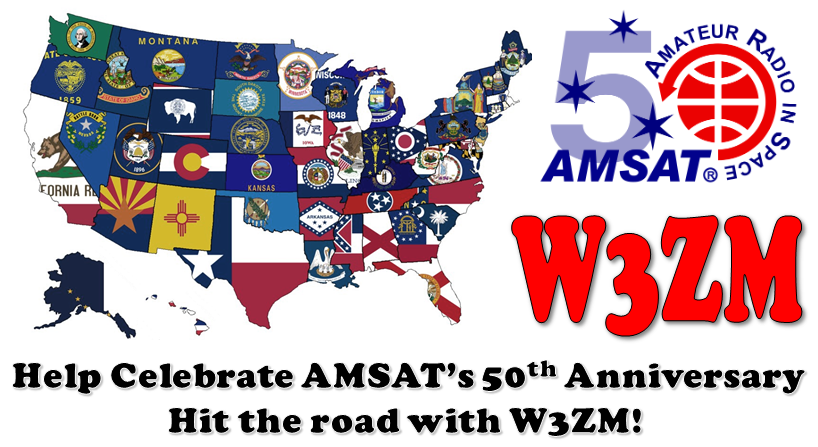 CALL SIGN
DATES
STATE
GRID(S)
OPERATOR
MODE
W3ZM/3
Oct 6
MD & hopefully DE
N8HM
FM & Linear
--COMPLETED--
W3ZM/4
Jun 21, 2019
VA
EM96
KM4LAO
FM & Linear
W3ZM/5
Jun 22-23, 2019
TX
EM21
W5PFG
PSK31 & Packet BBS
W3ZM/0
Jun 22-23
IA
EM30
K0FFY
FM & Linear
W3ZM/7
Jun 24-25, 2019
ID
DN33
N7EGY
FM
W3ZM/7
Jun 28-30, 2019
OR
DN04, DN15, DN05
KI7UNJ
FM
W3ZM/1
Jul 2, 2019
VT
FN32
K2MTS
FM
W3ZM/0
Jul 2-3, 2019
SD
EN04, EN05
AD0HJ
FM
W3ZM/7 +/0
Jul 3, 2019
WY + NE
DN71
N6UA
FM & Linear
W3ZM/4
Jul 2-3
FL
EM60
KG5GJT
FM
W3ZM/4
Jul 3, 2019
GA
EM71
N4KGL
W3ZM/6
Jul 4, 2019
CA
DM14
K6FW
FM & Linear
W3ZM/7
Jul 4, 2019
OR
CN94
KI7UNJ
FM
W3ZM/2
Jul 5, 2019
NY
DN23, FN22
KB2YSI
FM & Linears
W3ZM/KH6
Jun 27-Jul 8, 2019
HI
BL20, BK29, BK28, BK19
N8MH
FM & Linear
W3ZM/9
Jul 12-14
IL
EN50
KC9VGG
FM
W3ZM/1
Jul 12-14
ME
FN43, FN53
N1AIA
FM & Linear
W3ZM/9
Jul 19-21
IL
EN60, EM59, EM,69
KC9VGG
FM
W3ZM/9
Jul 23, 2019
IN
EM69
WB9VPG
FM
W3ZM/0
Jul 23-24, 2019
MN
EN34
AK4WQ
FM & Linear
W3ZM/9
Jul 24, 2019
IN
EM68, EM69
WB9VPG
FM
W3ZM/KL7
Jul 24-26
AK
CO45
N9IP
FM & Linear
W3ZM/7 + /0
Jul 25
WY + CO (state line)
DN70
N6UA
FM & Linear
W3ZM/0
Jul 26-28
IA, KS, MO, NE
TBD
KG5CCI
FM & Linear
W3ZM/7
Jul 27, 2019
WA
CN88
N7AGF
FM & Linear
W3ZM/5
Jul 27, 2019
OK
EM15
KI5BEX
FM
W3ZM/8
Jul 28, 2019
OH
EM79
WB9VPG
FM
W3ZM/4
Jul 29, 2019
KY
EM78, EM79
WB9VPG
FM
W3ZM/5
Aug 1, 2019
AR
TBD
KG5CCI
FM & Linear
W3ZM/9
Aug 2, 2019
WI
EN44/45/54/55
WN9Q
W3ZM/0
Aug 3 2019
CO
DM68/69/78/79
AD0DX
FM & Linear
W3ZM/8
Aug 3-5
MI
TBD (Upper MI)
WN9Q
W3ZM/7
Aug 9-12
NV + UT
DN20, DN30
WY7AA
W3ZM/8
Aug 6-9, 2019
MI
EN66
KE8FZT
W3ZM/7
Aug 17-19
OR
CN93, CN94
KI7UNJ
FM
W3ZM/0
Aug 22-23, 2019
MN
EN14/24, EN15/25
AD0HJ
FM & Linear
W3ZM/4
Aug 24, 219
AL
EN61
KE4AL
FM & Linear
W3ZM/7
Aug 24-25, 2019
AZ
DM41, DM51/52
KF7R
FM & Linear
W3ZM/5
Aug 29, 2019
MS
TBD
KE4AL
FM & Linear
W3ZM/5
Aug 30, 2019
AR
TBD
KE4AL
FM & Linear
W3ZM/0
Aug31, 2019
ND
TBD
ND0C
FM
W3ZM/3
Aug 30, 2019
PA
FN21
KB2YSI
FM & Linear
W3ZM/1
Aug 30-31
1400-2300z
NH
FN42
WB1FJ
FM (no SO-50)
W3ZM/4
Aug 31-Sep 2, 2019
SC & NC
TBD
KO4MA
FM & Linear
W3ZM/2
Sep 8-15
NJ
FN20
KQ2RP
W3ZM/1
Sep 13, 2019
MA , CT, RI
TBD
WB1FJ & AB1OC
W3ZM/5
Sep 20-21, 2019
NM
DM64
KE4AL
FM & Linears
W3ZM/4
Sep 30, 2019
FL
EM60
N4KGL
W3ZM/KP3
Jun 20 - Oct 17, 2019
PR
FK68
KP3A
FM & Linear
W3ZM/8
Oct 2-3
WV
EN90
K8BL
FM & Linear