Straight Key Night Winners Announced – Plus Changes for Next Year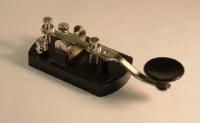 Ray, W2RS thanks all who participated in AMSAT's Straight Key Night 2016, held in memory of Ben Stevenson, W2BXA.
The following participants each received at least one Best Fist nomination: AA5PK,. WA5KBH, WA8SME, W3TMZ, W4CVV, W5PFG.  Special kudos to Glenn Miller, AA5PK, who received three.